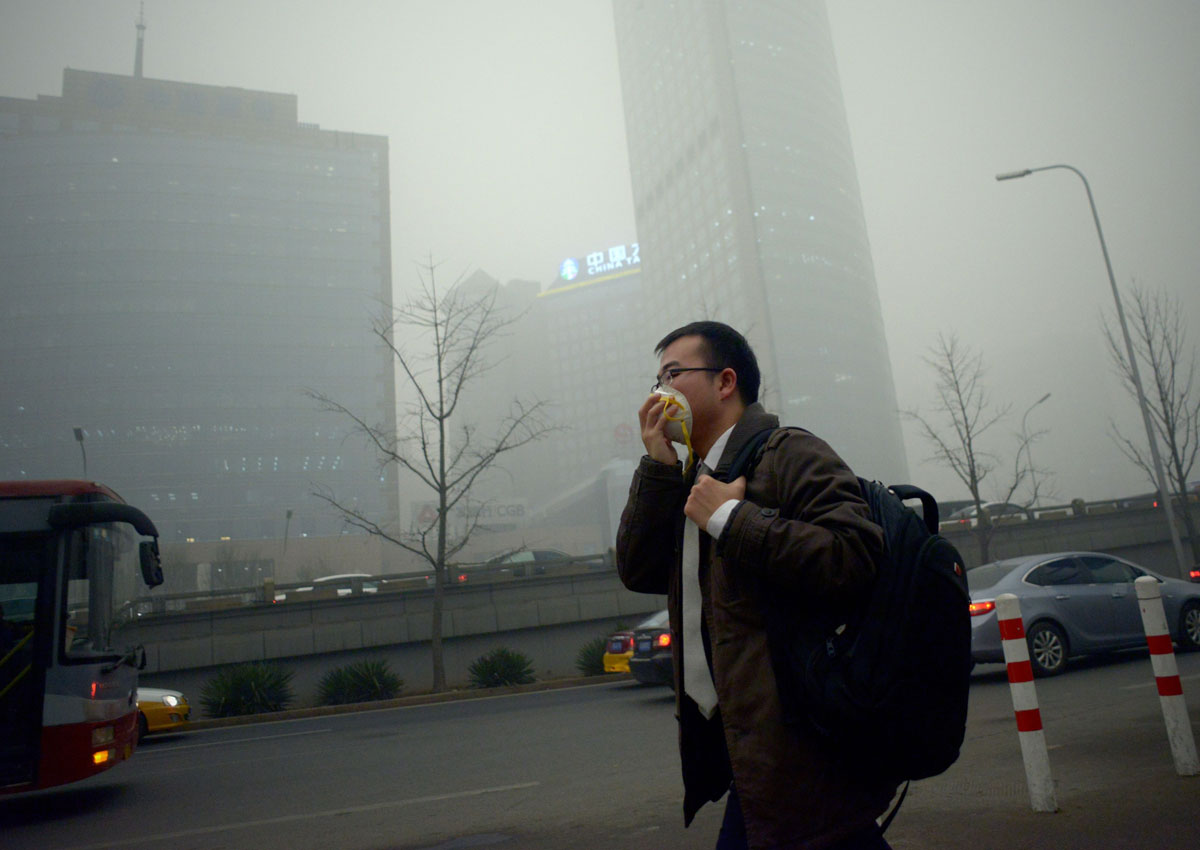 With many of Beijing's iconic and cultural landmarks erased by heavy, acrid smog yesterday, the city's residents lit up the Internet in a bid to commiserate with fellow sufferers, while others more enterprising found business opportunities under the murky skies.
Some netizens turned to dark humour and satire to lighten the gloom of the city's worst pollution on record this year, while others expressed anger, frustration, cynicism and even resignation at the latest "Airpocalypse" to hit the city.
"Not again. The people of Beijing have to suffer together and make it through this man-made disaster once more. Please take care of each other," said one netizen on China's Twitter-like Sina Weibo.
As masked residents and tourists brave enough to venture out struggled to see more than a block or two ahead, another netizen posted and commented on zombie-like images of Chinese women dancing in a public square. "I was about to take a walk in the park, but this scene stopped me. If there was no music in the background, I would have thought this was a scene from Resident Evil," he wrote, referring to the action-horror film series, Hong Kong's South China Morning Post reported.
With the murk also obscuring landmarks like Tiananmen Square, where only a handful of visitors gathered, others also took to social media to share pictures with the outlines of smog-shrouded buildings drawn in.
But the humour only belies the severity of China's smog nightmare. Most Beijing residents donned face or gas masks and locked themselves indoors yesterday as harmful pollutant readings soared to 25 times above safe levels.
A China Citic bank employee in Dongzhimen district, Ms Wang Jun, told The Straits Times the number of customers had fallen significantly. "It is obvious that people are staying home today and only those with urgent business have come in. No one wants to leave the house when it's smoggy," she said.
But businesses such as food delivery services have seen a spike in customers, with local media reporting that some firms have hired more temporary help to cope with the increased demand. 
As hospital waiting rooms filled up with patients with respiratory problems, the issue has also become a major source of popular discontent with the authorities.
This time, even China's official news media joined in the chorus of criticism, with Xinhua posting on Twitter: "Breathless. Speechless." The US microblog, however, is blocked on the mainland.
The past five days of grim air are particularly embarrassing for President Xi Jinping, who took the stage at the Paris climate talks on Monday vowing "action" on greenhouse emissions. He reiterated his pledge of having China's carbon emissions peak by 2030, urging developed nations to fulfil their commitment of providing funds to developing ones to help them tackle climate change.
However, the challenge for China - the world's largest emitter - to go green is daunting. Two-thirds of its energy is still generated by coal and it produces and consumes almost as much of the fossil fuel as the rest of the world combined.
Experts say it is this coal burning that is a key contributor to the high concentration of PM2.5 - microscopic airborne particulate matter linked to cancer and heart disease - in Beijing's smog. Its harmful effects are already being felt. Air pollution kills an average of 4,000 people a day in China, according to research group Berkeley Earth.
esthert@sph.com.sg 

This article was first published on Dec 02, 2015.
Get a copy of The Straits Times or go to straitstimes.com for more stories.