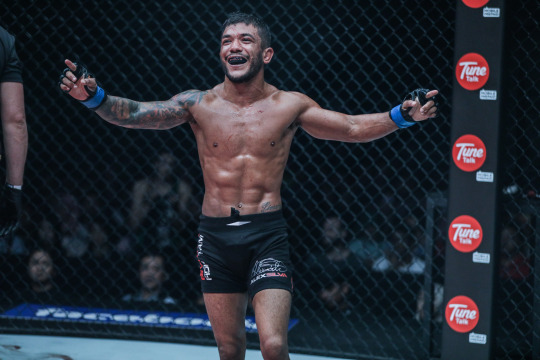 Alex "Little Rock" Silva started life in the cage after a stellar career in Brazilian jiu-jitsu, but the 35-year-old Copa Do Mundo champion has wasted no time in his pursuit of similar success in the ONE Championship cage.
Silva takes on Yoshitaka Naito in the main event of ONE: WARRIORS OF THE WORLD in Bangkok, Thailand, on 9 December looking to secure his sixth straight submission win, his seventh win overall, and become ONE Strawweight World Champion in the process.
Silva surged into title contention with a hugely impressive 82-second submission of previously-undefeated grappler Hayato Suzuki at ONE: LEGENDS OF THE WORLD in Manila in November.
Silva modestly admitted he did not expect the finish to come so quickly, but was ready for the opportunity when it came.
"I was prepared for everything. You never know what is going to happen," he explained.
"I was just a little bit surprised that he went for the takedown at the very beginning of the match. I expected him to strike more, then maybe in the second or third round try to take me down. But that was good, I was expecting [the takedown]."
The manner of Silva's win, coupled with his undeniable form, meant he was the natural choice as the next challenger to face Naito for the ONE Strawweight World Title.
Silva recalled the moment he was told about the title shot, saying he was ready to jump into the cage there and then.
"I have worked hard for this opportunity, so I was very happy and excited," he said. "I could not wait. I felt like I could go the same night. I was like, 'Bring me this guy and I will go against him now!'
"Thanks to God, I was fine and was not injured, so I just took the moment and continued my training. Next, we will put on a show again on the 9th [of December]."
Silva's run of submission wins has led him to this world title opportunity, and the Brazilian says he won't be changing much about his preparation ahead of the biggest bout of his martial arts career.
"Pretty much, I will keep my camp the same as I did for Suzuki," he explained. "To tell the truth, I train everything every day anyway.  Every day grappling, every day striking, every day wrestling. That is how we train here at Evolve."
The Brazilian is confident in his own skills, and says he can't wait to test them against another seasoned grappler in Naito, who has earned half his 12 career wins by submission.
"He is a champion, he is undefeated, and he is a grappler like me," Silva explained.
"I believe his weakness will be his striking and his strength is going to be his grappling. My strong side is my grappling too, but people have not seen my striking yet, so maybe that can be a good point for me.
"Suzuki was a good grappler and deserved a lot of respect, but Naito will probably be the best grappler I have faced in the ONE Championship cage.
"Like I always say, I do my part of my job — I train every day — and then I put everything in God's hands. God knows how it is gonna happen. I believe, and I am confident, that I can submit him and finish this match."
Victory would cap a remarkable rise for the 35-year-old, who says capturing the ONE Strawweight World Championship would mean one simple thing to him: happiness.
"Winning the title would mean happiness for the people around me — my family, my friends, my team — and happiness for myself. It will make people around me happy."
In addition, if Silva is successful in his title tilt in Bangkok, he promises to conduct himself as a world champion, embodying the values he has always held important as as martial artist.
"I believe to be a great champion, you have to show good skills, of course," he explained. "But it is also very important to be a humble person and not let it go to your head. Be who you are every day. It does not change you just because you have a belt.
"That is what's most important for me. To have a good character, be humble, and inspire people."