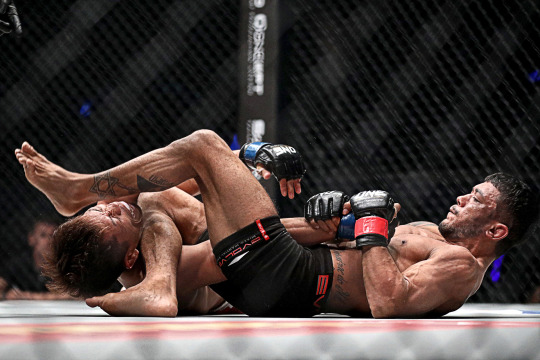 Brazil's Alex "Little Rock" Silva hopes to follow in the footsteps of his grappling heroes by capturing world championship gold on 9 December at ONE: WARRIORS OF THE WORLD.
Silva, 35, who trains and coaches at Singapore's Evolve MMA, says he's taking inspiration from the successes of BJJ legends such as his fellow countryman Royce Gracie and Evolve MMA teammate Shinya Aoki, as he prepares for the biggest matchup of his career.
"I watched Royce Gracie and got fascinated," he enthused as he recalled discovering the power of grappling during his teenage years.
"How could he finish people so much bigger than him? Then I started training BJJ, and I started to see friends competing in the cage, and I thought, 'Maybe I can do this. I think I can do this,' and I tried to work on my skills to do the same."
Silva took that fascination with grappling all the way, as he became one of the world's top exponents of the art, capturing the prestigious Copa do Mundo BJJ world championship before turning his attention to the cage.
"I have competed in many, many BJJ tournaments. And when martial arts started growing, I felt I wanted to test myself in a different way."
That eventually led to him swapping Brazil for Singapore, as he joined his close friend - and another inspirational figure in his career - Leandro "Brodinho" Issa as a professional athlete and coach at Singapore's Evolve MMA. He also joined his friend as part of the ONE Championship roster.
While at Evolve, he also encountered one of his heroes from his younger days, as he became a teammate of Japanese icon Shinya Aoki.
"Shinya Aoki inspired me a lot," he said.
"I remember when I was in Brazil. I would never have competed in martial arts back then, but I watched his matches.
"And now, I have the opportunity to train with him at Evolve. I can definitely say that he is my idol."
Driven by his determination to succeed, and inspired by those around him, Silva has been on a tear in the ONE Championship strawweight division, as he has racked up five straight submission victories inside the ONE Championship cage.
Most recently, he handed the hugely-respected Japanese grappler Hayato Suzuki the first defeat of his career, finishing him with a first-round armbar.
That astonishing submission win saw him quickly booked as the next challenger for the ONE Strawweight World Championship, currently held by Yoshitaka Naito.
A win would elevate Silva to the rarified position of world champion in two fields, as well as an influential, inspirational figure for other aspiring martial artists to look up to.
That's a position he says he wouldn't take lightly, as he explained he aims to conduct himself like a champion, whether he actually holds the belt or not.
"It is most important that before you are even a champion, that you have a good personality, and a good character," he said.
"You need to be humble. That is how I want to inspire people. Then after that, they might see that I am a champion, and that I have the belt.
"I do not want people to just see that I am a champion, but not have the right character. That is very important to me. I think that is what has brought me to where I am today — being humble and having a good character, whether you are a champion or not."