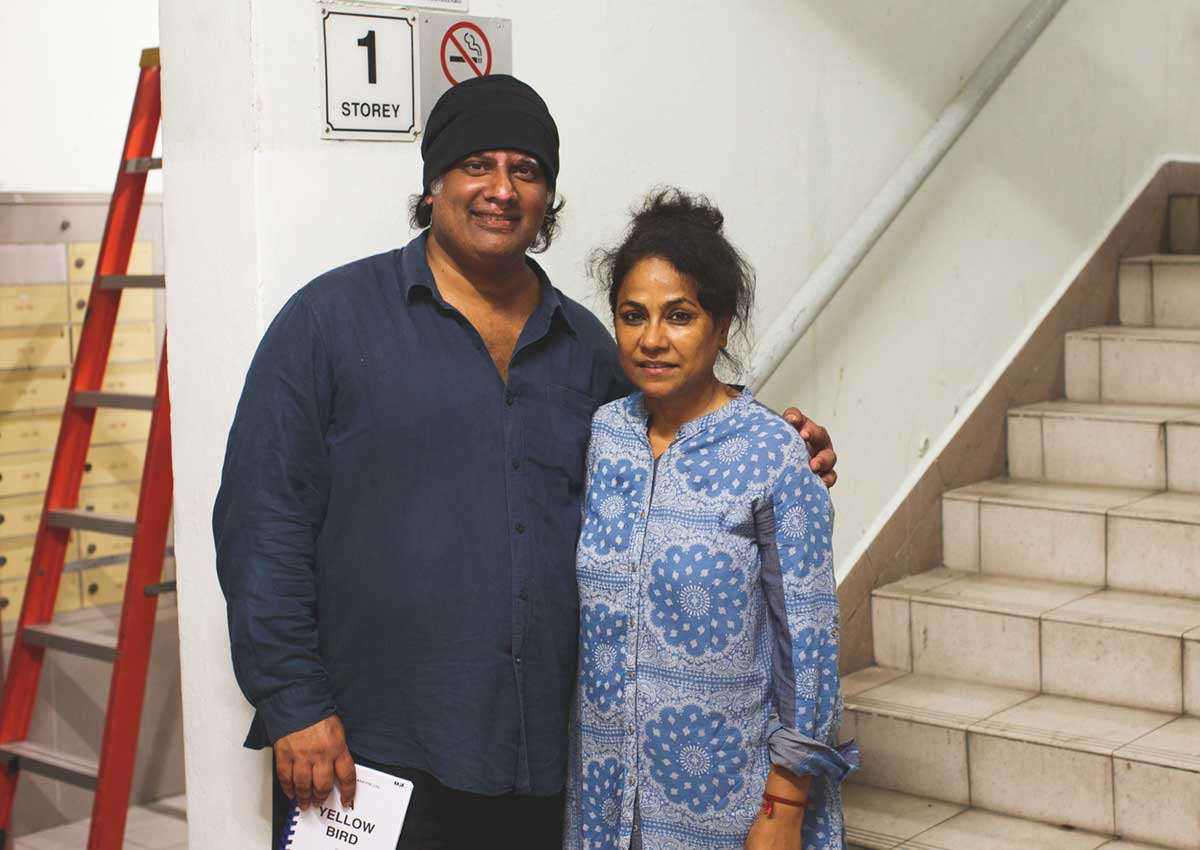 WHEN he was a child, his mother told him that whenever he saw a yellow bird, he should make a wish as he'll meet someone nice or receive a piece of good news.
It was something award- winning film-maker K. Rajagopal remembers fondly about his mother, who died three years ago.
That inspired him to make his first feature film A Yellow Bird.
The 90-minute film, which is partially based on his life, tells the story of an ex-convict who tries to re­connect with his family after his release from prison. It stars local actors Sivakumar Palakrishnan, Udaya Soundari, Nithiyia Rao and Bollywood actress Seema Biswas, among others.
But getting Seema from India, where she is based, wasn't a comfortable experience for Rajagopal initially.
"I was scared to speak to her. I thought to myself, 'I am going to be working with someone bigger, am I asking for trouble?' But when she came she was so nice and encouraging.
When she saw the script, she liked the role and was happy to be part of the film."
On choosing her as a lead actress, he explains: "I wanted a certain kind of look and intensity in the person who will portray my mother's character.
We used to have silent wars over the years and she could be very cold. I needed someone strong to portray that without speaking much and I thought Seema had all those qualities."
25-day shoot Though he took only 25 days to make the film, he planned the story for years before starting on it. To him, the script is the most important part of any film he makes.
"Sometimes you change the script or you experience writer's block, or there's some criticism, you don't know where to go with it and you feel uninspired for a while.
The script was very crucial and I didn't want to rush it," says the 50-year-old Singaporean, who was awarded $250,000 to fund the film, under the New Talent Feature Grant by the Media Development Authority.
But he successfully shot the film in September last year and is happy with the result. A Yellow Bird will be released in theatres in May.
It was the first Singaporean film to be selected for the 10th Cinefondation's L'Atelier in Cannes in 2014. L'Atelier is a platform for a select group of directors handpicked by Cinefondation, a foundation under the Cannes Film Festival, to help close the funding gap on a film project which has not been shot yet.
It provides teams with an opportunity to meet financiers, executives, sales agents and government fund managers from around the world.
Rajagopal was also one of the directors for local film 7 Letters (2015), which comprises seven short stories on the theme Home, that celebrates Singapore's 50th birthday.
His film, The Flame, revolves around his own story - how his parents' decision to stay in Singapore after the British withdrawal from the newly-independent country changed his life.
7 Letters has been selected by the Singapore Film Commission as the official entry to the Oscars' Best Foreign Language Film category. While he is "very happy" about the selection, he is also hopeful that the film will be nominated for the category.
Another collaboration Rajagopal was also part of Lucky 7 (2008), which is, like 7 Letters, a collaborative effort of seven local film-makers.
However, he explains that though both films involved the work of seven directors, they were made very differently.
"All of us were very involved in each other's films for Lucky 7. We were given the last page of the previous director's script and we had to continue the film from there.
I was the second director so I was given the last page of the script of the first director's film and I had to continue the film. The only constant was the main actor.
"We all had to help each other. The director from the third film had to do art in the first film, the person in the first film did sound for me, I acted in one of the films. But for 7 Letters, there was no real interaction, except for the fact that we met initially to discuss the film."
The self-confessed film buff shared that his "first love is indeed making films" and said he owes his love for watching films to his family.
"My mother loved watching films and our family used to watch Indian films at home often."
When Rajagopal was 15, he would save up money to watch films on his own in cinemas.
He loved them so much that he would watch up to three films a day after school. "I suppose the exposure to watching many films from a young age kindled my interest in films," said the former St Andrew's Junior College (SAJC) student.
But his foray into film-making wasn't an easy one.
He first started out as a theatre actor, acting in plays such as Medea in 1987, Mother Courage in 1988 and Private Parts in 1992.
But as he was acting, he realised he wanted to be the man behind the camera instead.
"I felt I needed something to express myself better. As an actor, you're just part of a big picture, you're a tool. I was very attracted to the role of someone who was in control and, at the same time, I had stories in my head that I wanted to tell."
Rajagopal then found out about the short film competition by the Singapore International Film Festival.
He was 30 years old when he decided to participate while holding a full-time job as an administrator.
"I made my first film in 1994 while I was moonlighting at a hotel in Little India.
I saw all these Sri Lankan workers who wanted to go to Europe because of the problems in their country and they couldn't sleep at night.
They used to come down and talk to me about their problems," he recalls.
That's how he got the title for his first film I Can't Sleep Tonight. And that was how his career in film took flight.
At that time, he didn't know anything about shooting a film and camera work.
But he had a friend, Ms Rose Sivam from Mediacorp, who helped him with handling the camera and the production work.
He also couldn't afford to hire actors so he used friends and people he met on the streets to act in his film.
"Even with the little technical know-how and just a good story", he won the Special Jury Prize at the competition.
"I was so thrilled to receive the prize from one of the judges I look up to and consider my role model Adoor Gopalakrishnan.
It was something I never thought I could do. I wasn't trained in film-making and suddenly I was appreciated by an award," Rajagopal tells tabla!
This motivated him to take part in the same competition the following year in 1995.
He used the prize money of $5,000 from the first competition to rent the equipment to make the film, which he titled The Glare.
It tells the story of a woman who, faced with the harsh reality of an abusive drunkard husband, frequently escapes into her own fantastical world inspired by the television programmes she watches every day.
This time, he didn't have a friend to help him with the camera work. He had to recall everything he had learned from Ms Sivam during the making of the first film to shoot the second and this time, he used his actor friends from SAJC.
As he had spent a lot on renting the cameras, he had no money to pay the actors and could afford only to give them money for transport and food. Despite his difficulties, he won the competition again.
The winning streak continued in 1996 when he took part in the same competition and made Absence. "My father passed on when I was a kid. So the film was about the absence of a father." This time, he managed to get some actor friends to act in the film.
"After winning the Special Jury Prize three years in a row, I didn't know what to do.
Every time I made a film that was in the Singapore International Film Festival, I won. It was great encouragement at the time. I was very lucky."
Says Rajagopal of his films: "Most of them are inspired by personal experiences of incidents that happened in my family.
My films have a story but I had no means to do much lighting, elaborate costumes and big sets. That's why I believe the story is the most important.
If you have a good story, you can make a good film. You can make a good film in a very basic way."
But it wasn't an easy journey for him in the early days of his film-making. Though he hardly knew how to handle the camera, he was thankful that he could draw on his several years of experience working in theatre.
"I had the opportunity to work with some of the best theatre directors such as Ong Keng Sen and Kuo Pao Kun. I learnt about character playing, script-writing, subtext and physical theatre and how to approach it," says Rajagopal.
But one common feature of his films is that most of them do not have dialogue. He elaborates: "I like the aesthetics in films and at the same time I find it very hard to write dialogue. I'm not very verbal. Film-making to me is more of a visual experience."
Despite his successful foray into the media industry as a film-maker, Rajagopal gave himself a shot at directing TV programmes such as Anita's Complaint (2008) and The Boy Who Was Not There (2008) for the Arts Central channel.
He also directed two seasons of tele-film Rehai (2010 - 2011) on Vasantham and one season of Savithri (2011), among other programmes.
Still nervous He even went back to theatre acting after an 11-year hiatus, playing the title role in The King Lear Project in Brussels and at the Singapore Arts Festival in 2008. He also directed short films The New World (2008) and Timeless (2010), before embarking on 7 Letters last year.
Though he now has vast experience in making films, he doesn't dare to call himself a film-maker. "When film-makers make films, they give their whole life to it and I don't know whether I've done that.
So I dare not say things like I'm a film-maker. Sometimes I still dabble in it. It's not easy, I shy away from it a lot," says Rajagopal who de-stresses by watching films and listening to music.
Hence, it's no surprise that the award-winning director still gets butterflies in his stomach before shooting a film.
"I always feel like I'm doing everything for the first time. If you ask me to go and shoot now, I'll feel nervous and scared despite having shot films many times, I don't know why.
I just get scared. That's why it takes time for me to even say 'okay I'm ready to do a film'."
He feels that the most rewarding part of making films is that he can express what he feels without having to tell someone about it.
"Maybe it's because I'm not very confrontational so I like the idea of making a film and seeing what people think through it, whether it's criticism or a compliment."
But he has this advice for budding film-makers: "We may have doubts at certain points but be persistent and do not give up. The accolades and recognition are important but you shouldn't stop if you don't get to the top early enough."
amritak@sph.com.sg

Get a copy of tabla! for more stories.