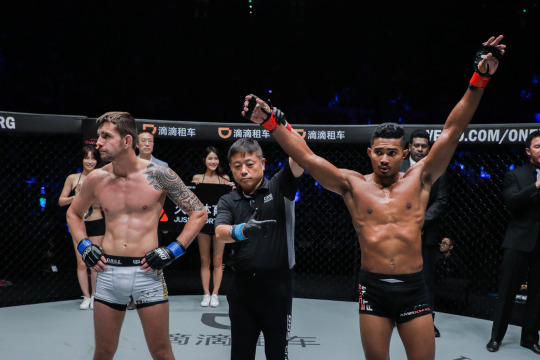 All martial artists face challenges as they make their way through their careers, and Singapore's ONE Championship star Amir Khan is no different. What is different, however, is the type of challenge he had to face.
Khan grew up with Tourette Syndrome, a neurological condition that causes involuntary tics and movements. 
For someone looking to succeed in the world of martial arts, it's something he's worked hard to control, and now it's no longer an issue for him during bouts. However, he's regularly asked about it by inquisitive journalists and fans alike.
"Usually, inside the cage, I do not try to control the tics," he said.
"Sometimes, it comes up, but it does not affect me, because I learned to cope with it. Even if I were to move my head, my eyes are still on my opponent."
It was a different story in his youth, however, where the condition proved a real challenge to Khan during his childhood and at school.
"Growing up, I used to have spasms. I used to shake my head a lot. I would blink my eyes and make facial expressions," he said.
"When I was younger, it was really really bad. When I was in school, the other kids would pick on me and imitate me and stuff. It was tough growing up with it."
Fortunately, Khan found martial arts – an outlet that, almost by accident, helped him to deal with his condition and make life easier, both inside and outside the gym.
He took up the art of Muay Thai as a 13-year-old, moving away from his previous passion for golf, and found the physical exertions and mental focus of 'The Art of Eight Limbs' had a positive effect on how he coped with his condition.
"I believe martial arts has helped me through it," he said.
"Whenever I felt like I could not control my Tourette's, then I would go to the gym and I would sweat it out. I felt relaxed and better after each session.
"In martial arts, you cannot really take your eyes off your opponent when you are sparring with him. You have got to really really focus, or else you will get hurt, so it definitely taught me how to focus, and I was able to bring it over into real-life situations."
Martial arts also had a positive effect on life at school. Previously, he'd been mocked and bullied as a result of his condition. But soon that came to an end, as his Muay Thai exploits became known around the school.
"After I started picking up Muay Thai, people started to say, 'This guy knows how to fight,' and they just talked [to me] a lot more," he remembered.
"They seemed more interested in me, I guess."
He had his first amateur bout aged just 14, and then, after a few more contests, went to Thailand to train. It was there that he picked up the urge to compete professionally, a prospect that left his otherwise supportive mother more than a little concerned.
"My mom was alright with me just training, but when I wanted to compete, she was not too sure about it," he said.
"You know moms can be very protective. My dad supported me since day one. When I told him I want to compete in Muay Thai tournaments, he said: 'Okay, just tell me what I can do to help.'
"My mom, after a couple of years, I tried to convince her that this is what I really wanted to do, and then she supported me in the end."
Now, Khan competes with the support of his whole family, and that, combined with the knowledge that his Tourette's no longer plays a negative part in his athletic career, has seen him rocket up the ranks of the ONE Championship lightweight division. He owns an impressive record of eight wins, two losses, and the record for most knockouts and finishes in the promotion.
Now, the 23-year-old will be looking to propel himself into title contention, with victory over seasoned veteran Adrian Pang when he faces the Australian at ONE: IMMORTAL PURSUIT on 24 November in Singapore.
Khan says a stoppage win should be enough to book him into a title bout early in the New Year.
"If I put him away either by knockout, submission, or TKO, I believe I have the right to challenge the world champion."