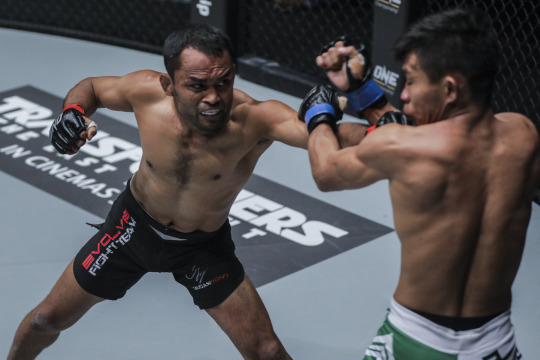 Former ONE Strawweight World Champion Dejdamrong Sor Amnuaysirichoke came into tonight's contest with something to prove, following a losing streak that dropped him to 6-2 in his mixed martial arts career.
The 38-year-old Evolve MMA product ended that streak on Friday, 26 May, as he defeated Indonesia's Adrian "Papau Badboy" Matheis at ONE: DYNASTY OF HEROES in Amnuaysirichoke's adopted hometown of Singapore.
"It feels good," he offers. "I went 200 per cent in training. I trained hard, I wanted to come back stronger, and I got the win. I feel happy."
The Thai warrior, who has competed in over 300-career Muay Thai bouts, got out to a fast start once referee Yuji Shimada called for the two warriors to engage. Amnuaysirichoke had Matheis backed up to the fence, attempting to move left and right to avoid being pinned.
Amnuaysirichoke, versatile in his striking attack, used his fearsome fists and feet to repeatedly punish Matheis. A right leg kick would hammer "Papau Badboy" low, and a left head kick would hurt him high. Simply put, Mathes was overmatched.
The 24-year-old Matheis took an accidental finger to the eye that called a brief halt to the action, but once he was cleared to continue, Amnuaysirichoke remained relentless in his assault. As he cornered the Indonesian against the fence yet again, a series of straight left jabs dazed, and then dropped, Matheis to the canvas.
Shimada mercifully decided to wave off the contest at the 4:26 mark of the opening stanza, awarding Amnuaysirichoke the win by way of knockout.
The much beloved "Kru Rong" bounces back from a close split decision loss at the hands of Team Lakay's Joshua Pacio at ONE: WARRIOR KINGDOM two months ago, and proves he is still a force to be reckoned with. He improves to 7-2, and may be in title contention again before you know it.
As for the young and hungry Matheis, who won the ONE Strawweight Indonesia Tournament Championship last August, he drops his third-straight and falls to 3-4.