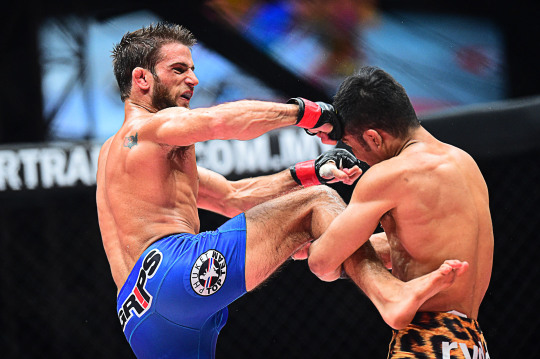 Andrew Leone may have been raised in America, but he has built an amazing life for himself in Asia.
Now, he is edging closer to the biggest match of his career against ONE Bantamweight World Champion Bibiano Fernandes at ONE: KINGS AND CONQUERORS on 5 August. He will have to depend on the skills he has developed over a lifetime of training across the globe.
The 27-year-old challenger, who trains at the famed Bali MMA, the gym he co-owns, is confident in his skills, and already envisions getting the belt.
"After I win the world title," he says, "I plan on defending it many times, and staying in ONE till the end of my career."
Leone's career first sprang to life when he was a kid living in Long Island, New York. He spent the earliest parts of his childhood on the wrestling mats, starting at the age of five, and truly concentrated on his grappling talent during his teenage years.
The young New Yorker traveled to the Midwestern United States — America's hotbed for wrestling — to participate in camps, and would become a two-time All-State wrestler.
After attending Missouri Valley College for a year and a half on a wrestling scholarship, however, he felt university, and wrestling in its purest form, was no longer for him. "It was a great opportunity, but in the end, I dropped out," he says.
The call of mixed martial arts was getting too loud for him to ignore, and upon reading a book titled A Fighter's Heart: One Man's Journey Through The World Of Fighting, he was motivated to move out East. In 2010, he saved US$2000, and moved to Southeast Asia.
Leone first spent time working as an English teacher and a wrestling coach in Bangkok, then moved to Singapore a year and a half later. There, he helped to coach the national wrestling team, as well as the developing talents at Juggernaut Fight Club. In 2012, he joined Phuket Top Team as a trainer.
Even though he was hopping from country to country, he was also heating up the Asian scene. Leone won six of his first eight matches, even handing future ONE Bantamweight World Champion Soo Chul Kim his first defeat along the way.
That led to him joining ONE Championship, where he soundly defeated his first two opponents, Geje Eustaquio and Shinichi Kojima, via unanimous decision.
After getting two of his biggest wins, Leone decided to take some time off to set up the facility he and his brother, Anthony, had dreamed of. On the shores of Indonesia, along with their partners Steve Suryadinata and Don Carlo-Claus, the brothers opened Bali MMA in October 2014.
After spending a year making the gym a success, the New Yorker could finally focus on his career again.
Signing up to fight Japan's Koetsu Okazaki at ONE: TRIBE OF WARRIORS in February of 2016, he went to work at getting himself back in fight condition, whilst preparing for an exceptionally tough adversary. Returning after a layoff was not easy, but the correct foundations had been set at Bali MMA, and he believed in the team around him.
"I was nervous," he admits, "but confident at the same time after a fight camp in my own gym. There were so many tough guys on the mats here – tons of high-level strikers and mixed martial arts guys. I had no reason to go anywhere else."
That preparation proved effective. He went on to defeat the former Shooto champion in Okazaki, a man who had gone the full five rounds with ONE Bantamweight World Champion Fernandes in the past.
Fernandes has been running through the opposition since entering ONE Championship in 2012, and holds an unrivalled six title defences within his unblemished 8-0 promotional record. His submission game and durability has seen him assert himself as ONE's most domination champion at any weight.
That said, Leone is a hungry, and younger, mixed martial artist, and the mix of elite wrestling, a jiu-jitsu black belt, and an emerging stand-up game could very well be enough to dethrone the current divisional king.
"I am undefeated in the ONE cage, and I plan to keep my record like that," concludes Leone.