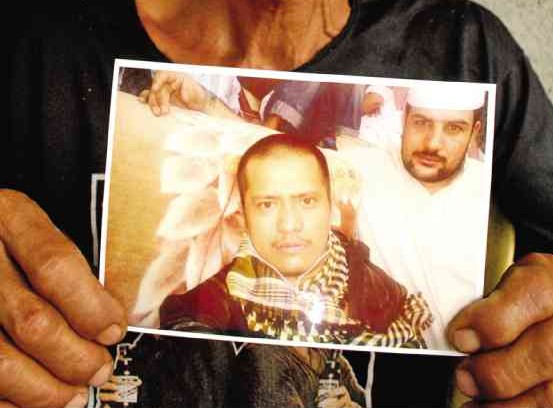 BACOLOR, Pampanga-"Please bring my son home."
Mona Zapanta made the appeal to President Aquino on Wednesday, the day after her eldest son, Joselito, an overseas Filipino worker, was executed by public beheading in Riyadh, Saudi Arabia.
The Zapanta family and the national government failed to raise the P48-million (S$1.6 million) "blood money" the family of Zapanta's Sudanese victim had demanded for the killing.
At one point in the family home in Barangay Cabetican here, where a prayer vigil had begun Tuesday night, the 54-year-old Mona asked the Inquirer if it was true her son was dead.
"Maybe he is alive? And he would just show up here alive?" she said.
Later, she told herself that Joselito, 35, must have been buried in Saudi Arabia because as an Islam convert, he should be interred within 24 hours.
But Joselito's grandmother, Loreto, 73, said she wanted her grandson buried in a Catholic cemetery in this town that has struggled to rise after Mt. Pinatubo's deadly eruption in 1991.
"If he's buried here, we can visit him and pray in front of his grave," she said.
Mona has asked Pampanga Rep. Oscar Rodriguez to relay her wish for her son's remains to the President.
During our interview, Mona sobbed hard, wailing at one point.
She kissed Joselito's picture several times.
"I want to see you, my son."
She said she and her daughter, Rose May, last saw Joselito on Nov. 27 when the Philippine government funded their trip to Saudi Arabia.
Comfortable life
"He left for Riyadh in 2008. His dream was to make life comfortable for us and his children," she said.
After she got word on Tuesday afternoon that Joselito had been executed, Mona fainted and was taken to the nearby Ricardo Rodriguez District Hospital.
"Her blood pressure shot up. She was given medicine for hypertension and to calm her down," Rose May said.
Jesus, Joselito's father, was expected to arrive home from Al-Khobar, Saudi Arabia, on Monday, she said.
He works there as a bulldozer operator but was unable to see his son in jail before the execution.
According to Gov. Lilia Pineda, Joselito, during their last telephone conversation more than a year ago, had accepted his fate.
"He said he was ready to go. He asked me to keep the P3 million we raised and spend it instead on the education and other needs of his two children," Pineda said.
Buried immediately
Mona said the two children had been informed of their father's death. The staff of Susan Ople, head of the Blas F. Ople Policy Center, found them in Biliran province, staying with their mother.
The Department of Foreign Affairs (DFA) confirmed on Wednesday that Zapanta had been buried in Saudi Arabia.
DFA spokesperson and Assistant Secretary Charles Jose said Zapanta was buried after his execution by beheading on Tuesday.
"(Zapanta) was buried immediately after his execution per Saudi law," Jose said in a text message. With a report from Christine O. Avendaño