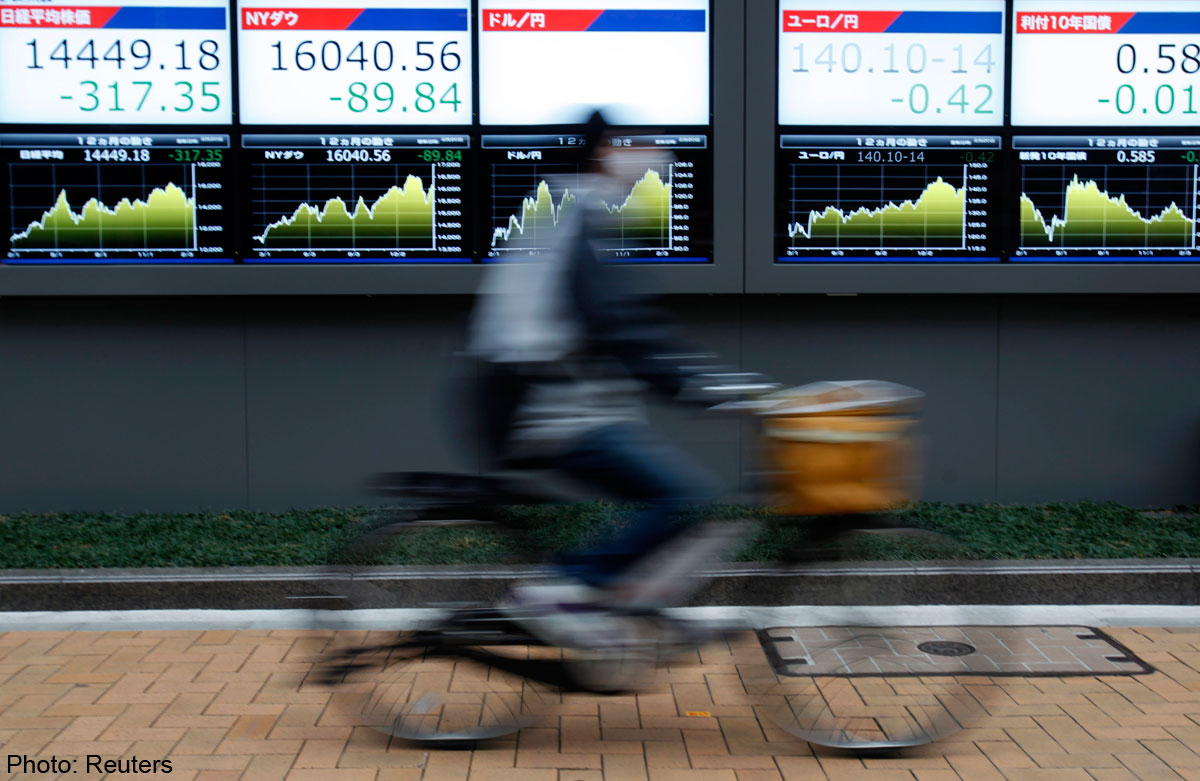 HONG KONG - Asia's markets mostly rose on Tuesday following big losses in the previous session while investors track a Bank of Japan meeting to see if it will announce any fresh economy-boosting measures.
The gains came despite a negative lead from Wall Street, while the dollar and euro also edged up slightly against the yen as the Japanese central bank wraps up a two-day policy meeting.
Tokyo rose 0.74 per cent by the break, Hong Kong added 0.16 per cent, Sydney was 0.10 per cent higher, Shanghai slipped 0.47 per cent and Seoul was flat.
Global markets suffered a sell-off on Monday in response to a shock trade deficit in China that raised fears about the world's number two economy and key driver of global growth.
On Wall Street, the Dow fell 0.21 per cent, the S&P 500 dipped 0.05 per cent and the Nasdaq gave up 0.04 per cent.
Investors were also taken aback by a downward revision of Japanese economic growth for 2013, giving the BoJ's meeting more significance.
While officials are not expected to add to the bank's already vast monetary easing scheme for now, attention will be on what it has to say about the economy and its plans for the near future.
Analysts suggest policymakers will keep their powder dry until they can assess the impact of a controversial sales tax that comes into effect next month, which some fear could derail a nascent economic recovery by hitting consumer spending.
"All eyes are on the Bank of Japan, but even though it isn't expected to say much, there are enough uncertainties to keep investors on the sidelines for the time being," Junichi Wako, equity market strategist at Nomura Securities, told Dow Jones Newswires, noting overall trading volume hit a four-month low Monday.
The dollar was quoted at 103.33 yen (S$1.27) in morning trade, up from 103.26 yen in New York Monday.
The euro fetched US$1.3871 (S$1.76) and 143.36, against $1.3875 and 143.28 yen.
Tensions in Ukraine also remain on the radar as world leaders struggle to find a diplomatic solution to the crisis.
On Monday US Secretary of State John Kerry refused to attend talks in Moscow after his Russian counterpart Sergei Lavrov snubbed Kiev's interim leaders.
Lavrov denounced Kerry for turning down an invitation to meet but Washington hit back that the time was not right as there was no sign that Russian President Vladimir Putin was prepared to negotiate.
Washington has led global efforts to defuse tensions since Russian troops deployed last week in Ukraine's Crimea peninsula following the ouster of the pro-Moscow president Viktor Yanukovych.
Oil prices edged down. New York's main contract, West Texas Intermediate for April delivery, was down six cents at $101.06 and Brent North Sea crude for April eased 14 cents to $107.94.
Gold fetched $1,339.30 an ounce at 0230 GMT compared with $1,339.80 late Monday.