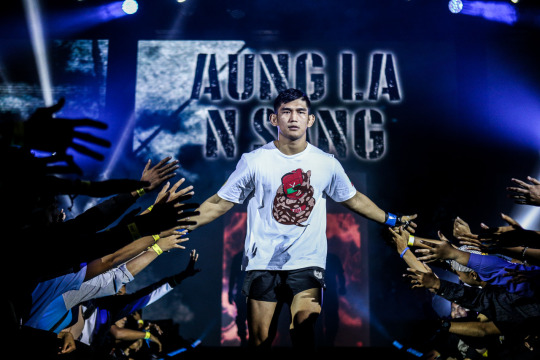 Aung La N Sang is staring at the opportunity of a lifetime.
On Friday, 30 June, the 32-year-old will return to his home country of Myanmar to headline ONE: LIGHT OF A NATION at the Thuwunna Indoor Stadium in Yangon.
It is a high risk, high reward bout for the "Burmese Python." He will have a rare second opportunity to win the ONE Middleweight World Championship, this time in front of his countrymen.
The risk? He will have to defeat the reigning undefeated title holder, Russia's Vitaly Bigdash, the same man who defeated him five months earlier and snapped his four-fight winning streak.
Myanmar's favorite son took a gamble this past January, as he stepped up on less than two weeks' notice to fill in for the injured Marcin Prachnio and face the middleweight kingpin at ONE: QUEST FOR POWER.
Aung La N Sang was competitive in the opening rounds, but a third-round head kick from the unbeaten champion changed the tide of the bout. Subsequent takedowns and ground strikes then kept the title around the Russian's waist. The unanimous decision loss dropped Aung La N Sang's record to 19-10 with 1 No Contest.
"I was still trying to get my cardio up on the week of the fight, so it was just bad preparation, and it showed in the later rounds," the Myanmar hero explains. However, despite the loss, he has no regrets. "I am happy we did the first fight," he continues. "We went five rounds with him, and I felt first-hand what he had to offer, so essentially, it was good."
With a longer training camp and the experience of going five rounds with the champion in his back pocket, Aung La N Sang expects a different outcome, when the two clash in this highly-anticipated rematch later in the month.
"I am very, very confident about this fight," he says. "I feel very well-prepared. I feel five rounds is not going to be a problem at all, and I feel I am going to be dangerous for every second of the fight. I am going to be ready for this one."
Aung La N Sang has plenty of reasons to feel confident ahead of the main event bout. Of Bigdash's nine wins, he is the only athlete to take the champion to the final bell. That, along with that first-hand experience, makes him even more of a threat to the Russian champion.
The "Burmese Python" has also strategically built a training camp specifically around Bigdash. He is spending the majority of his training with his main camp, Crazy 88 MMA in Baltimore, Maryland, and cross-training with Team Lloyd Irvin. If that name does not ring a bell, Irvin helped launch current ONE Heavyweight World Champion Brandon Vera's career.
"I have been doing my homework," the challenger admits. "I brought in more training partners and I brought in pro fighters from all over Maryland with similar body builds as Bigdash."
Even with all the preparation and the home field advantage, Aung La N Sang knows he will not be the favorite on Friday, 30 June.
"I am the underdog in this fight, because I lost to him, and he has an undefeated record," he acknowledges. "I do not think the home crowd is going to make him the underdog, but it is good to have the home crowd behind you."
And if this underdog defeats Bigdash for the belt, those at the Thuwunna Indoor Stadium will ensure that it will be a night their hero never forgets.