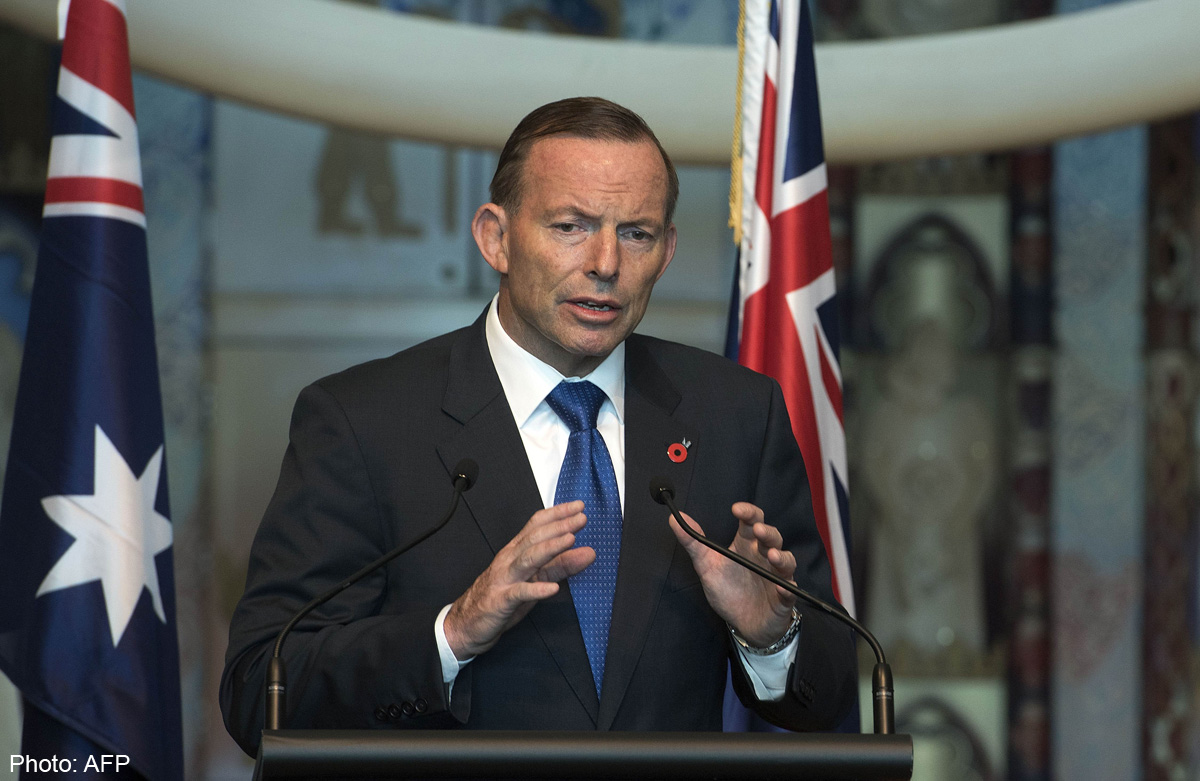 WELLINGTON - Australian Prime Minister Tony Abbott said Monday that he will use a trip to Turkey for Anzac Day commemorations to push Ankara for increased security on its border with Syria and Iraq.
The border is one of the preferred routes for foreign fighters seeking to join Islamic State (IS) jihadists, with Western powers criticising Turkey for not doing enough to seal it off.
Abbott, who will be in Turkey later this week to mark a century since the bloody World War I Gallipoli campaign, said he would raise the issue with President Recep Tayyip Erdogan.
"Obviously, Australians who have gone to fight with the death cult (IS) have mostly gone through Turkey," he told reporters during a brief visit to New Zealand.
"So I will be talking to the Turkish leadership about what can be done to better police that border and better ensure that people who have no reason to be going there are prevented from being there."
He said it was critical to prevent "gullible, impressionable young Australians" from joining IS.
Abbott's comments come amid heightened security for events surrounding Anzac Day on April 25 after Australian police uncovered an alleged IS-linked plot to stage an attack during the commemorations.
Police arrested five men in counter-terrorism raids in Melbourne on Saturday and charged one of them - 18-year-old Sevdet Besim - with conspiring to commit a terrorist act.
Another 18-year-old, who has not yet been charged, was being held under a preventative detention order that could last for up to two weeks, police said.
Abbott said the domestic threat posed by IS jihadists underlined why Australia and New Zealand were sending troops on training missions to boost the Iraqi military's ability to fight the group.
"As peaceful people, we are naturally reluctant to reach out to foreign conflicts, but this particular conflict is reaching out to us," he said.
"That's why this deployment to the Middle East is not just about helping people over there, it's about helping our own people too." He described the troops, 330 Australians and about 140 New Zealanders operating in the massive Taji base complex north of Baghdad as "splendid sons of Anzacs".
The Australian leader repeated his call for the alleged Melbourne plot not to deter crowds from attending Anzac ceremonies.
"The best thing that Australians and New Zealanders can do is to turn up in very large numbers at Anzac events wherever they are, to support our values, our interests and our armed forces," he said.
"That's the best thing people can do if they want to show support for our way of life and our values." Ceremonies are due to be held across the country, as well as in Britain, home to tens of thousands of Australians and New Zealanders, on April 25 to remember those who served as Australian and New Zealand Army Corps soldiers.