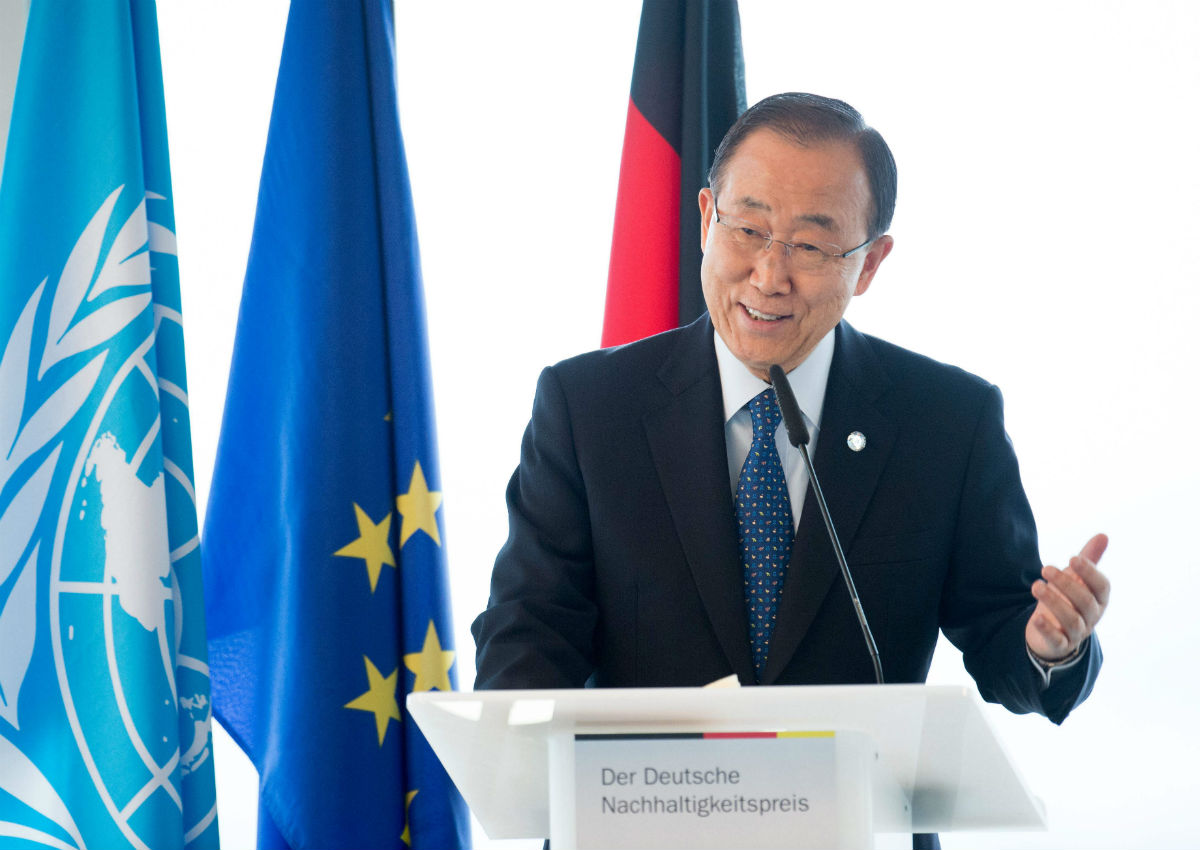 Ever since the United Nations' Secretary-General Ban Ki-moon hinted at his potential bid for the 2017 presidential election, it has been speculated that he would run on a ticket led by President Park Geun-hye and her loyalists from the ruling Saenuri Party.
But the political situation here has been working against such a scenario, as a corruption scandal has caused Park and her party to plunge to record-low approval ratings.
The more Ban was associated with the president, polls suggested, the less approval he received from the public.
Now the world's top diplomat, whose term will end on Dec. 31, appears to be adopting a new strategy in the current political turmoil -- bashing the incumbent president.
"The (Korean) people were very much frustrated and angry about the complete lack of good governance," said Ban during his remarks at a meeting with the Council on Foreign Relations on Friday.
"They believed that the trust on and for the leadership of (the) country was betrayed."
Using words such as "betray" and "trust" -- terms that Park herself had often used to dismiss her dissenters' pushback against her initiatives -- Ban denounced the president for creating political turmoil "that the Korean people have not seen since the Korean War."
Ban went as far as to compare Park's leadership to that of her father, former president Park Chung-hee who ruled the nation with an iron fist.
He blamed the incumbent president for creating such a crisis in a country where political stability and economic prosperity have come a long way from her father's presidency.
"When her father, President Park Chung-hee, was assassinated in 1979, those were the times when Koreans were going through a turbulent process.
But this time, in a very peaceful society, (a) very democratic, economically well-to-do society, this has happened," Ban said.
But the 72-old career diplomat continued to remain ambiguous about whether he would run in the 2017 presidential election.
When asked whether he would offer new leadership to the Korean people, Ban only said he would "focus on the UN agenda" until he finishes his term
Outside of a potential presidential bid, Ban has set a different tone from his previous stance on his political ambitions.
During his farewell press meeting at the UN on Friday, Ban offered a glimpse into the leadership that he had envisioned, saying that South Korea needs an "inclusive leadership that helps them overcome political challenges."
Ban's remarks raised speculation that if he decides to throw his hat into the ring at the presidential election, he would not go with the group once led by Park and her loyalists and would decide instead to represent moderate conservatives, such as those among Saenuri lawmakers or the centrist People's Party.
"Currently, Saenuri Party is in a difficult position to represent conservative voters. Should Ban decide to run for the presidential race, I think he would seek a new option," said former Saenuri Floor Leader Rep. Chung Jin-suk, one of the moderate Saenuri lawmakers who is known to be close to Ban.
Having clashed with Park loyalists over control of the party since they joined the opposition parties in impeaching the president, some bigwigs from the group of anti-Park Saenuri lawmakers have been casting Ban as their standard bearer and have considered rallying behind him.
Earlier this month, former Saenuri leader Rep. Kim Moo-sung, who has campaigned for impeaching the president, said that he is "willing to work" with Ban and that "there is no reason" for Ban to the join pro-Park faction.
People's Party interim leader Rep.
Kim Dong-cheol described Ban as a platform to expand their political base, leaving open the possibility that the runner-up opposition party could align with Ban for the presidential race.