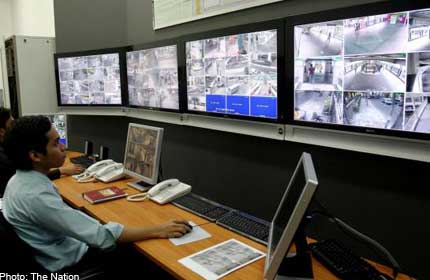 Bangkok's "Miracle Eyes" scheme to install one million closed-circuit-television (CCTV) cameras in three years is on track after Kasikorn Bank announced 60,000 CCTV cameras and high-quality software for its Bangkok branches this year.
Metropolitan Police deputy chief Pol Maj-General Adul Narongsak said yesterday that after media reports on Miracle Eyes, which aims to cut crime and improve public safety, many businesses had expressed interest in taking part.
Kasikorn Bank will on September 9 sign a contract with the Metropolitan Police Bureau, TOT and allies to become the latest supporter of Bangkok's bid to get public safety on a par with that of other regional cities ahead of the ASEAN Economic Community launch in 2015.
As well as the 60,000 CCTV cameras across all Bangkok branches, the bank also aims to install another 300,000 cameras nationwide in future, said Adul, adding that this was a sign that all parties were committed to joining the police in boosting public safety.
TOT and allies also installed high-tech surveillance tools at the Traffic Police Division on Vibhavadi Road this week, while also hooking up software to link all 88 police stations to the division's fourth floor headquarters and the crime-watch centre at Thung Song Hong Police Station, Adul said.
Miracle Eyes was patented by police on March 14 following its launch last September, but it was refused a Bt35-million budget request. As a result, city police chief Pol Lt-General Camronwit Toopgrajank suggested the scheme be sponsored by the private sector, leading to the collaboration with TOT. Police and TOT signed a memorandum of understanding late last year, Adul explained.
Residents can also apply for the scheme at TOT offices across Bangkok. The software is designed to capture footage of crimes and alert police, who should then arrive at the scene within five minutes, Adul said.
Police will officially launch the scheme on November 5 and forecast the installation of 100,000 cameras in the first year. A target of 300,0000 more has been set for the second year, then another 600,000 cameras for the third year. Residents who join the scheme will pay a Bt200-Bt300 application fee then Bt500 a month to TOT in order to help finance the project, he added.
The camera software will be available in three packages - "small" for residential use; "medium" for petrol stations, banks and convenient stores; and "large" for universities and office buildings.