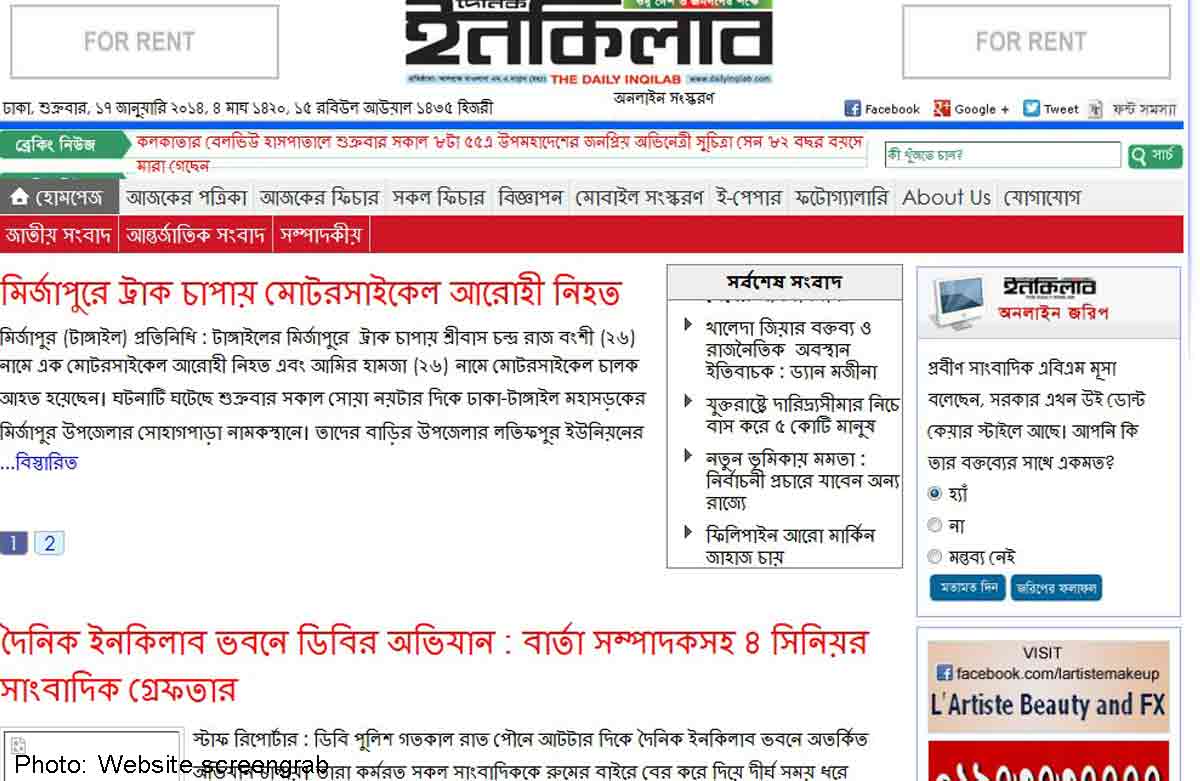 DHAKA - Bangladesh police arrested three journalists from a pro-opposition newspaper for publishing a "false" story claiming Indian forces had helped to contain recent election violence, an officer said Friday.
The news editor, deputy chief reporter and diplomatic correspondent of Dhaka-based Bangla-language daily Inqilab were arrested late Thursday after police filed a case against the publication.
"They published the sensational news that goes against the country's sovereignty despite being aware that it was false and baseless," Dhaka police spokesman Monirul Islam told AFP.
"We have arrested three journalists involved with the report. We raided the office following due procedures, only after obtaining a search warrant issued by a court," Islam said.
The report, published on Thursday, said the Bangladesh government took assistance from Indian security forces to contain protests in the southwestern district of Satkhira, which borders India, ahead of January 5 national elections.
The front-page story quoted reports from two separate news websites and social networking sites, and included reactions from government officials and independent analysts.
The foreign ministry denied the allegations, saying they were "false, fabricated and were part of ill propaganda".
The issue is sensitive because the opposition tends to criticise the ruling Awami League party as being too close to neighbouring India, which helped Bangladesh gain independence from Pakistan in 1971.
The arrests came amid mounting criticism of the government's muzzling of dissenting voices after a blood-soaked general election boycotted by the opposition and dismissed as a farce.
The Awami League, led by Prime Minister Sheikh Hasina, won by a landslide, but she faces pressure from the opposition and international community to order a re-run of the vote.
Last May authorities raided and closed down a pro-opposition television channel after it aired footage of clashes between Islamists and security forces in central Dhaka.
A month before the shutdown of the TV station, a popular pro-opposition newspaper, Amar Desh, was closed down and its editor arrested for sedition and inciting religious tension. Police also sealed off the daily's printing presses.
Earlier this month, a Bangladesh court jailed a newspaper editor for seven years after he was found guilty of harming the country's interests through his articles as well as to trying to travel to Israel.