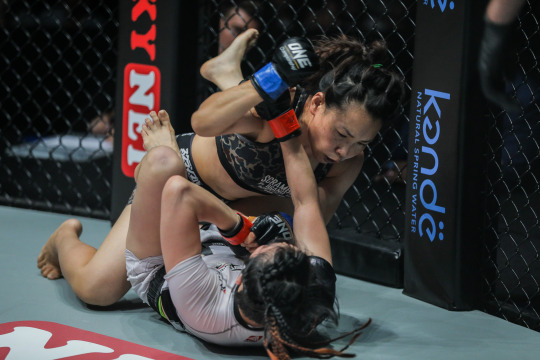 In a highly-anticipated women's atomweight contest, Japan's Mei "V.V." Yamaguchi snapped a two-fight losing skid, and put a halt to Jenny "Lady Gogo" Huang's road back to title contention.
Yamaguchi defeated the judo black belt via rear-naked choke in the second round at ONE: LIGHT OF A NATION, which took place at Yangon's Thuwunna Indoor Stadium on Friday, 30 June, in Myanmar.
The opening minutes of the first stanza were a little tentative, with the pair showing patience and respect to each other. Midway through the frame, however, the action picked up. 
Yamaguchi used her striking to secure the clinch, and landed an eventual single-leg takedown. Huang remained active from the bottom position as time ticked to a close.
"Lady Gogo" came out aggressively in the second round, and delivered a spinning back kick that elicited a response from the crowd. Still, the Japanese atomweight continued to press forward, and caught a leg kick en route to a takedown. In a high-risk move, Huang jumped guard, but was out of position to finish the contest with a guillotine.
Yamaguchi owned the top position, and hurt the Chinese Taipei resident with right hands while advancing her position. After securing full mount, it was a matter of moments before the Taiwanese judoka surrendered her back and succumbed to a rear-naked choke at the 4:00 mark.
"V.V." got the victory she needed to get back on track, in her quest to challenge Angela Lee for the ONE Women's Atomweight World Championship after their first encounter over a year ago. 
Yamaguchi elevates her record to 16-10-1. "Lady Gogo," however, drops to 5-2. This loss is Huang's second in as many outings.