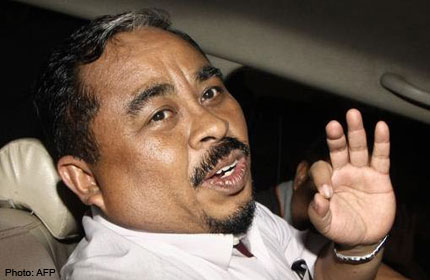 INDONESIA - Racy scandals rock the country's biggest Islamic party
Clandestine hotel room sex, money laundering and bribes.
Sounds like the seedy, criminal underworld?
Unfortunately, they are part of a racy scandal that has shattered the clean image of Indonesia's biggest Islamic party and could further damage already unpopular Muslim parties at national polls next year, AFP reported.
"The scandal has given Islamic parties as a whole a bad image," said Mr Umar S. Bakry from pollster Lembaga Survei Nasional.
The controversy that has shocked the country peaked last week, when an anti-corruption court sentenced the disgraced former president of the Prosperous Justice Party (PKS) to 16 years in jail.
Luthfi Hasan Ishaaq was found guilty of bribery and money laundering after accepting kickbacks from meat importers Indoguna Utama, in return for pressing the PKS-controlled agriculture ministry to increase the company's beef import quota.
Two executives from the company had earlier been jailed over the case.
Luthfi, who resigned as president of ruling coalition member PKS when the scandal emerged, said he will appeal.
Anti-graft investigators uncovered juicy details that tarnished the pious image the PKS has sought to cultivate.
They seized six cars from Luthfi and prosecutors accused the 52-year-old of hiding his polygamous status from his third wife, whom he married last year.
MIDDLEMAN
But an arguably bigger figure in the scandal is Luthfi's close aide Ahmad Fathanah, who was jailed for 14 years last month. Ahmad was a key middleman in increasing Indoguna's quota.
In January, anti-corruption agents caught the married man in a Jakarta hotel room with a naked college student.
Ahmad had just collected bribe money and the student later admitted he paid her for sex.
He was found to have laundered his bribe money by giving gifts like cars and diamonds to 45 women, including an adult magazine model and several celebrities.
The PKS is playing down the scandal and insists it is still on track for a strong result at legislative elections next April.
But independent polls in recent months show the party is receiving far below the almost 8 per cent it garnered at elections in 2009, and there is much public anger towards it.
The scandal, dubbed "Beefgate", has scotched the party's recent efforts to reinvent itself by moving away from a purist Islamic agenda and presenting itself as a clean organisation as others were battered by graft allegations - in particular, President Susilo Bambang Yudhoyono's Democratic Party.
Analysts say the controversy risks affecting all Indonesia's Islamic parties, which were already struggling. The scandal has given Islamic parties as a whole a bad image.
- Mr Umar S. Bakry from pollster Lembaga Survei Nasional

Get The New Paper for more stories.