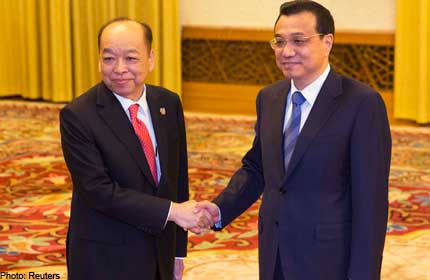 BEIJING - China's trade with South-east Asia could more than double to US$1 trillion (S$1.3 trillion) by 2020, Premier Li Keqiang has told regional leaders, downplaying simmering territorial disputes and stressing their "common destiny", state media reported yesterday.
He called for an upgraded version of the free-trade deal between the two sides and insisted that "disruptive factors" should not get in the way of regional cooperation, the official Xinhua news agency reported.
Trade between China and ASEAN has grown sixfold over the past decade to US$400 billion last year, it said.
Beijing claims almost all of the South China Sea - believed to sit atop vast deposits of oil and natural gas - even waters close to the coasts of its neighbours, and has been increasingly assertive over the issue in recent years.
Mr Li downplayed the disputes while addressing the 10th China-ASEAN Expo and business and investment summit in the southern city of Nanning.
"The Chinese side maintains that the South China Sea disputes are not an issue between China and ASEAN, and that they should not and will not affect overall China-ASEAN cooperation," he said, according to a transcript of his speech carried by Xinhua.
Philippine President Benigno Aquino did not attend the expo after the Chinese authorities imposed conditions on the trip, Manila said.
The Philippines accused China on Tuesday of laying concrete blocks on Scarborough Shoal, a small group of reefs and rocky outcrops within its territory in the sea. Beijing's Foreign Ministry spokesman, Mr Hong Lei, said yesterday that the accusation was "not true".