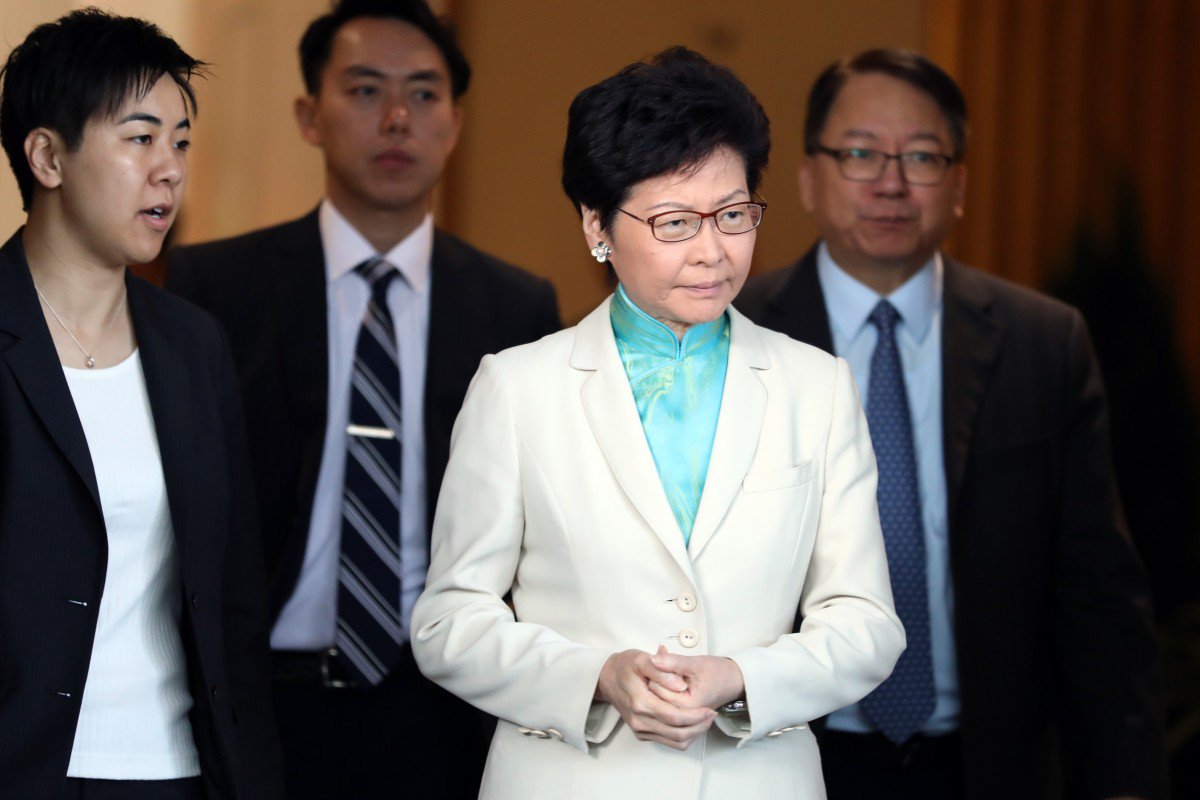 The decision to withdraw the contentious extradition bill was hers, Hong Kong's embattled leader has stressed, as she revealed that the central government had been supportive of her "all the way" and fully understood and respected her calls over the entire three-month-long crisis.
Chief Executive Carrie Lam Cheng Yuet-ngor on Thursday also maintained she had not changed her mind over the bill, saying the legislation's withdrawal was no different in substance to her earlier decisions to suspend it on June 15 or call it "dead" on July 9.
In announcing her decision on Wednesday, Lam also ruled out a second key demand from protesters - the setting up of an independent commission of inquiry to investigate police conduct when tackling demonstrations.
Asked about it at a press conference a day later, the chief executive said the Independent Police Complaints Council (IPCC) would conduct a fact-finding exercise instead and warned against labelling the watchdog a pro-establishment body on the basis that no opposition politician had been appointed to the council in recent years.
"It is a credible and independent statutory body and everyone I have appointed to the IPCC takes their independence seriously. We should not doubt them," she said.
Opposition lawmakers were not impressed by Lam's remarks on Thursday, saying the chief executive failed to explain how her decision would end social unrest, especially when Beijing had called on all Hong Kong institutions with public authority, including the judiciary, to fight "violent criminals" with no mercy.
But pro-establishment legislators said while there was no guarantee violence could be stopped in the near future, it was time to move on.
Lam's 45-minute press conference on Thursday came a day after she made a dramatic U-turn by announcing that she would formally withdraw the bill, which had sparked the city's protest crisis since early June.
In a pre-recorded video message, Lam also said on Wednesday she would invite professionals and academics to examine the city's deep-rooted problems, while she and principal officials would reach out to different communities to start direct dialogues. She also said she would fully endorse the IPCC's work by inducting new members and overseas experts.
But even though she was finally acceding to one of the demonstrators' five demands, protesters and politicians alike doubted it would do much to ease roiling tensions fuelled by increasingly violent clashes between police and protesters.
The protesters also want Lam to grant amnesty to those who have been arrested, stop characterising the protests as riots and restart the city's stalled political reform process.
Lam reiterated on Wednesday she would not give in to the first two demands and that political reform could only be done "in an atmosphere that is conducive to mutual trust".
At Thursday's press conference, Lam said the government's "comprehensive" response must not be seen as being too little, too late.
"I have announced a package of four actions. I hope that it will provide a basis for a dialogue and help Hong Kong to break the current impasse," she said.
But while Lam insisted she had not changed her mind about ways to handle the bill, she said it was after a meeting with 19 community leaders in late August that she agreed the legislation should be withdrawn.
"Two weeks ago, we met a lot of people from different backgrounds with different political positions, and they gave me this piece of advice … the withdrawal of the bill to fully allay public concerns is [an important basis] for a dialogue," she said.
"It is not exactly correct to describe this as a change of mind. You will remember on June 15 … I announced the suspension of the bill."
Lam also insisted Beijing respected and supported her administration's announcement.
"The decision was made by the Hong Kong government … The central government understands why we had to do it, they respected my views and they supported me all the way," Lam said.
"We would like the peaceful demonstrators not to go together with … the really violent protesters who have been attacking our public infrastructure."
Opposition lawmakers accused Lam of offering a "fake concession" intended to pave the way to invoke the Emergency Regulations Ordinance, which would give her sweeping powers to make any regulations if it was considered a matter of "emergency or public danger".
But Lam denied she was doing so, maintaining that the only goal of her announcement on Wednesday was to find a way to get a breakthrough.
Brian Leung Kai-ping, who fled the city after becoming the only protester to remove his mask in front of the media during the storming of the Legislative Council on July 1, suggested Lam had missed the point.
"The situation is not de-escalating. What we need is concrete institutional guarantees, not pulling strings to personally rid oneself of responsibilities and international pressure," he said.
Labour Party lawmaker Fernando Cheung Chiu-hung said only a relaunch of democratic reform could set the people at ease.
"Our young people and the whole society has been awakened, but Lam still lives in [the Hong Kong of] three months ago," he said.
Disagreeing, Federation of Trade Unions legislator Michael Luk Chung-hung said it was time to move on.
"Everyone who loves Hong Kong will hope Lam's decision helps to stop the violence, though I am also worried whether that goal can be achieved. I very much hope I'm wrong, and my worst fears will not come true."
After the press conference, Lam and the city's mainland affairs chief Patrick Nip Tak-kuen travelled to Nanning in Guangxi to meet mainland Chinese officials at the annual Pan-Pearl River Delta regional co-operation conference, due to start on Friday.
This article was first published in South China Morning Post.