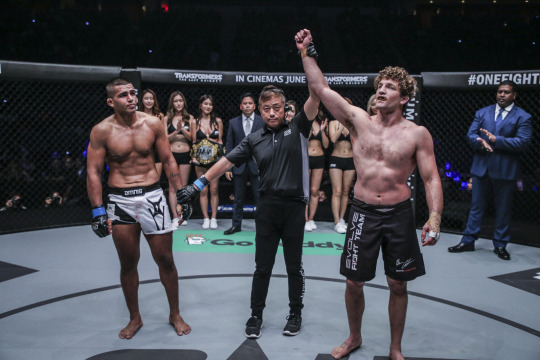 Unbeaten ONE Welterweight World Champion Ben "Funky" Askren is will be celebrating after a sterling performance at the Singapore Indoor Stadium.
The 32-year-old American submitted Malaysian challenger Agilan "The Alligator" Thani with an arm triangle choke at the 2:20 mark of the opening round of their title bout at ONE: DYNASTY OF HEROES. It was the co-main event on Friday, 26 May.
Thani was undoubtedly a game challenger. He came into the fight with a perfect 7-0 record including seven finishes; three by knockout and four submissions. That did not faze Askren, however, who vowed that he would retire from mixed martial arts competition if the Malaysian hero submitted him.
Evidently, he will not be retiring. Not anytime soon. After refusing referee Yuji Shimada's call to touch gloves at the start of the contest, the American got straight to work with the wrestling pedigree he displayed as a two-time NCAA champion. 
Thani was unable to stop the elder and more experienced Askren from throwing him to the ground 30 seconds into the bout, and was seemingly perplexed as the "Funky" one spun around on top of him from one position to the next.
Shimada became concerned when "The Alligator" was put into a perilous position, with his arms were pinned down and Askren repeatedly landing unanswered puches. He called for Thani to defend himself, and the challenger answered by rising to his feet, only to be taken right back down again. This is where the champ secured the match-ending arm triangle submission.
"I did exactly what I said I was going to do," the champ begins. "I landed a few punches, landed a kick, made the clinch, got the takedown, and got to all my strong positions, which is the crucifix position. And when I get to that position I land a lot of damage."
"I was able to land a few elbows, a whole bunch of punches, and then he was able to get out of it. I got him back down, and the arm triangle — once you beat some people up, a lot of times the arm triangle will present itself. I hunted it there, and I found it."
Askren also finds himself sitting pretty at 17-0, 1 No Contest, and without a challenger for ONE's scheduled show in Malaysia later this August, which he has seemingly volunteered for. 
What's more, Askren already has a pair of competitors he is looking to face, specifically ONE Middleweight World Champion Vitaly Bigdash and Swedish welterweight Zebaztian "The Bandit" Kadestam, who defeated Luis Santos earlier in the night.
"If Bigdash does not want to show up, I bet the Swedish man will," Askren says. "I will be in Kuala Lumpur, so one of those guys better show up."