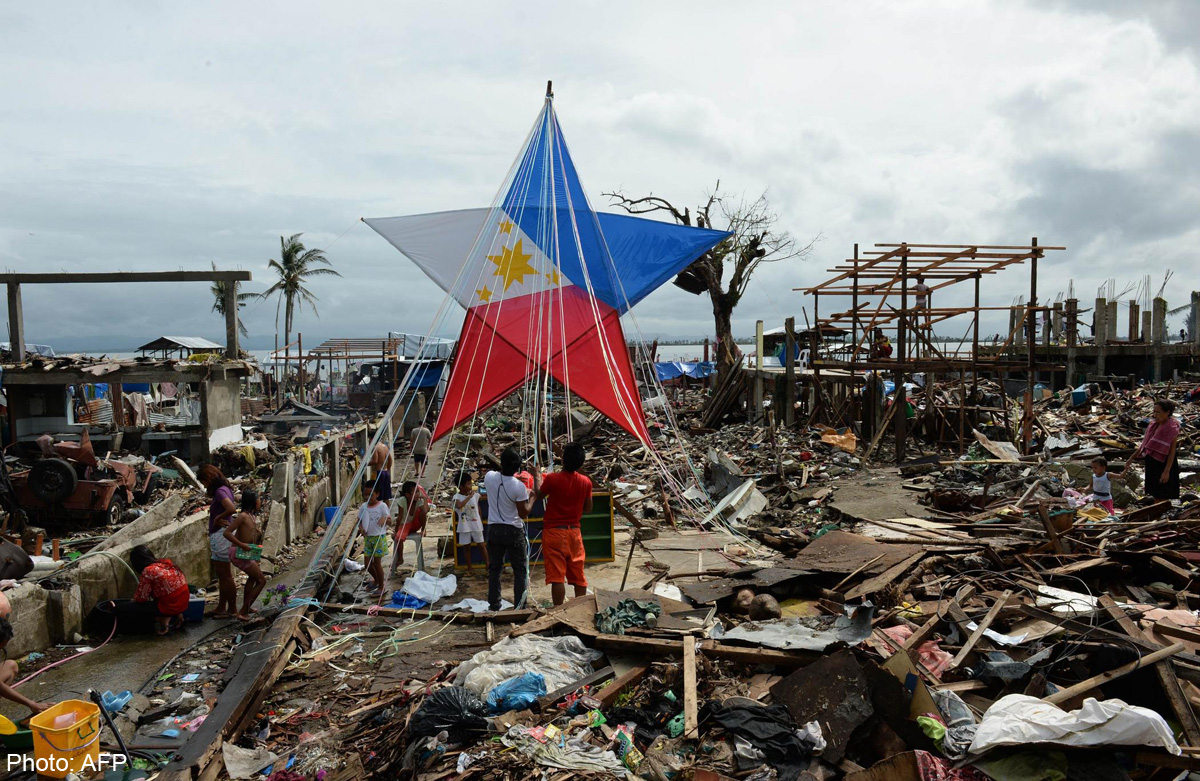 TACLOBAN, Philippines - The Philippines said "Thank you" on billboards around the world Saturday in gratitude for the massive outpouring of international help after a typhoon that killed about 8,000 people three months ago.
Electronic billboards lit up with "Thank you" signs at New York's Times Square, Galeries Lafayette in Paris, Tokyo's Shibuya Crossing, London's Piccadilly Circus and five other cities at 2040 GMT Friday, exactly three months after Super Typhoon Haiyan struck the central Philippines.
"The number of lives lost and affected is unprecedented. But ever since then, the world has been one with the Philippines in helping rebuild the nation," the tourism ministry behind the ad and social media campaign said on its website.
"The Philippines wants to say a big thank you to everyone who are helping us rebuild after Typhoon Haiyan," the ministry said on its official Twitter page, where it later posted the billboard pictures.
Haiyan, one of the strongest typhoons ever to hit land, smashed across 171 towns and cities in the central islands with a combined land area the size of Portugal, wrecking the homes of more than four million people.
The government is still collecting corpses and looking for nearly 2,000 missing people with 6,201 deaths already confirmed, many of them swept away by giant, tsunami-like waves unleashed by Haiyan on coastal communities.
In the hard-hit central city of Tacloban, many shops have reopened in a frenzy of rebuilding but tents and lean-to structures remain the norm in many ruined neighbourhoods, most of which are still without power.
"We're traumatised but there's nowhere else to go," Helen May Gabornes, a 27-year-old mother of two, said as she cooked a meal of tinned sardines at a muddy school yard near downtown.
The fisherman's wife and her extended family are among about 500 people living in blue tarpaulin tents and on relief goods there.
She told AFP her family went to live with Manila relatives on November 12, but returned after Christmas because they could not find jobs and were becoming a burden at her sister's home.
"We came back because we heard the government is giving free housing, but so far, nothing."
Amid the continuing difficulties, the tourism ministry urged the world's 100 million Filipinos on Saturday to join its "#PHthankyou" campaign on social media.
It suggested they download some of the ministry's "The Philippines says thank you" notes from its website and adorned with pictures of the country's top tourist draws, and post them on Facebook, Twitter, and other popular social networking sites.
Russell Geekie, spokesman for the UN disaster agency in the Philippines, told AFP the government-led relief effort has addressed many of the survivors' most acute emergency needs.
It was shifting to an "early recovery" phase with a focus on restoring livelihoods for millions of people, he added.
However, "shelter needs remain enormous".
"Obviously we talk about resilient people, but the scope of the disaster and destruction is such that it's very hard. There are remaining psycho-social needs that need to be met," he said.
These include finding the hundreds missing to give their families "closure".
The United Nations launched an international aid appeal in December for US$788 million (S$999 million) to finance the humanitarian effort for this year. Geekie said the appeal was about 45 per cent funded.
President Benigno Aquino has said the rebuilding effort would take at least four years and require more than $8 billion in funding.