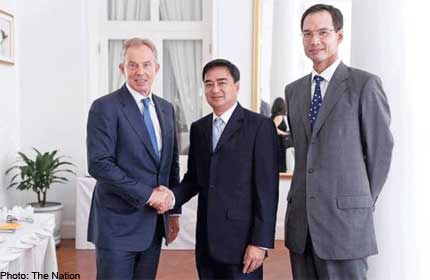 Former British prime minister Tony Blair yesterday discussed political reform with the opposition Democrat Party, which has boycotted the forum on that issue.
"We explained to him again that the government is not really sincere about political reform. They also refuse to review the consideration of an amnesty bill as the bill would create more division and negative impact on the political system," deputy Democrat Party leader Korn Chatikavanij posted on his Facebook page.
The meeting with Blair, party leader Abhisit Vejjajiva and Korn was requested by Blair, as he knew that the Democrats did not join the political reform process, the former finance minister said.
Korn later told The Nation in a telephone interview that this political forum should not have been hosted by the government, adding that non-partisan organisations should have been allowed to take charge.
"We told Blair that 'legal principles' are important in a democratic society. He agreed and understood our stance," he said.
Blair was invited by the government to be the keynote speaker at the forum on "Uniting for the Future: Learning from Each Other's Experiences" forum held by the Foreign Ministry yesterday.
After the morning session ended, the former UK premier lunched with Abhisit and Korn at the residence of the British ambassador.