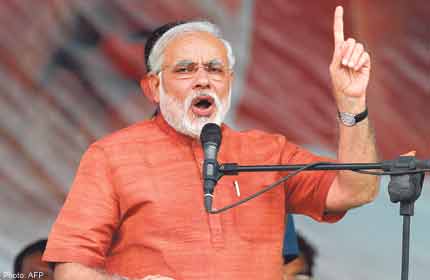 NEW DELHI - - At least three crude bombs exploded near a public ground in an eastern India city on Sunday where tens of thousands of people were gathered to hear opposition prime ministerial candidate Narendra Modi speak, police said.
One man was killed and five people were wounded in the blasts that occurred shortly before Modi arrived in Patna to launch the campaign in the big heartland state of Bihar for next next summer's national election, CNN-IBN reported.
An officer in the police control room said there were reports of people suffering injuries.
It was the first outbreak of violence since Modi, the challenger from the Hindu nationalist Bharatiya Janata Party, launched an aggressive campaign to oust the ruling Congress-led coalition in the election which must be held by May.
Critics say Modi, the three-time chief minister of western Gujarat, is pursuing a partisan agenda and accuse him of turning a blind eye to attacks on Muslims in 2002 in his state. Modi denies the allegations and the Supreme Court has cleared him of any responsibility.