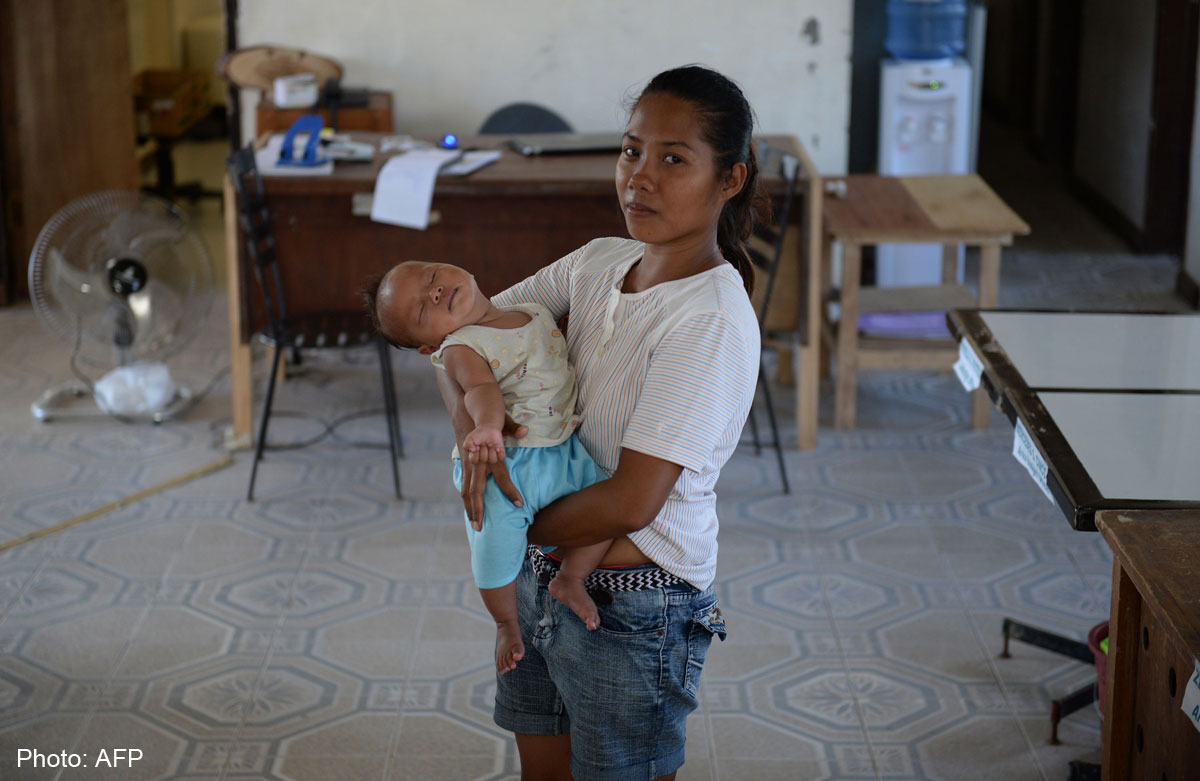 In the savage aftermath of the Philippines' deadliest storm, an exhausted young woman gave birth to a girl on a filthy floor with little more than determination to sustain them.
Mrs Emily Sagalis survived Super Typhoon Haiyan by gripping a fence with one hand, while using the other to protect her swollen belly from chunks of metal and other fast-floating debris on Nov 8 last year.
Three days later, the 21-year-old was lying on a concrete floor in labour amid broken glass, splintered wood and other wreckage of a destroyed airport building that had been turned into a makeshift medical centre.
She and her child, Bea Joy, defeated death and today, the first-time mother is striving to create lives of security and happiness on top of the weakest foundations.
"I am happy that Bea Joy is happy and healthy. That's the most important thing," Mrs Sagalis told AFP.
The home she shares with Bea Joy and her unemployed husband, Jobert, is so close to the Pacific Ocean that the grey sand beach forms the floor of their tiny kitchen and sleeping area.
Thousands of people have returned to San Jose, a fishing community in Tacloban, and neighbouring towns to live in crudely-built homes, or in tents from the United Nations' Refugee Agency.
The couple and their child have so far had a steady supply of food and water, thanks almost entirely to donations from foreign and local charities.
But the fresh salt-filled breeze from the Pacific Ocean haunts her.
"We are afraid because we are near the sea. When there is a strong wind... I start thinking about how to flee," she said, as she hand-washed clothes in a plastic bucket outside her house.
A year ago, she worked in Manila as a maid and the pair earned a combined US$150 (S$190) a month - placing them among the poorest of the working masses, but with enough to survive independently. Her husband was a delivery man in Manila.
Now, the family income is about US$1 a day, which Mr Sagalis earns by taking passengers in and around San Jose on a pedicab that was donated by a relief agency.
That money goes almost immediately on nappies for Bea Joy, plus some eggs and other items to supplement the relief food.
The couple are desperate for more, but not a lot. Said Mr Sagalis: "We are hoping we can have the life we had before, a normal life."
His wife struggles to offer a vision for her family's future other than ensuring Bea Joy remains healthy.
But her fortitude since the typhoon also engenders confidence.
She left the airport on a pedicab after giving birth and took a half-hour ride with Bea Joy through corpse-strewn roads back to an evacuation centre.
Asked if she felt fear then, or when she was in labour, she shook her head and said: "I just tried to be strong for my baby."
Get The New Paper for more stories.