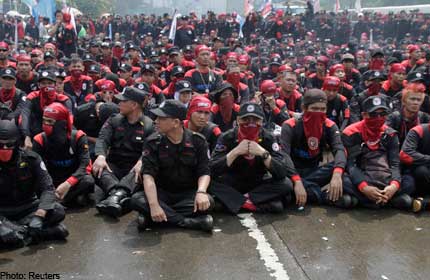 INDONESIA - Employers urged the government not to give in to pressure from labour unions seeking higher pay as 3,000 workers took to Jakarta's streets calling on the governor to raise the minimum wage.
"Wednesday's demonstrations are just a preview. We will launch bigger demonstrations (Thursday) in Jakarta and next week across industrial cities in Indonesia," said Mr Iswan Abdullah, vice-president of labour union FSPMI.
"We have to resort to protests to keep reminding the government and employers that wages have to be increased yearly to make up for decades of cheap pay," he added.
But that demand comes at a time when Indonesia's reputation as an economic darling has taken a hit. Some manufacturing plants have moved to other parts of the country with lower minimum wages, preferring to tighten their belts to preserve profit margins.
Union leaders argue higher wages would raise their spending power and thus stimulate the economy.
They want wages raised from 2.2 million rupiah (S$264) monthly to 3.7 million rupiah in greater Jakarta, which includes industrial cities like Tangerang and Bekasi.
Jakarta Deputy Governor Basuki Tjahaja Purnama blasted the protesters, saying their argument for steep hikes is not logical as it should be based on the cost of living.
"If they are going to continue like this, fire them... Which company can afford to pay like that?" he told reporters on Tuesday.
Transport and housing subsidies and other social welfare benefits in the form of health and education cards for the lower-income group are provided, he said.
Union leaders vowed that four million workers are ready to strike nationwide late next month.

Get a copy of The Straits Times or go to straitstimes.com for more stories.