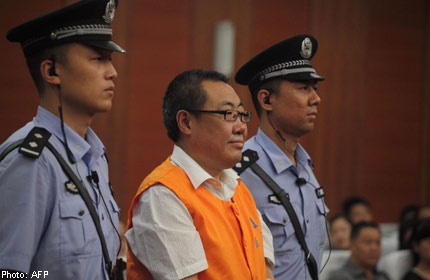 BEIJING - A Chinese official branded "Brother Watch" because of his expensive taste in time- pieces was sentenced to 14 years in jail for corruption, lamenting his fall into the "abyss of crime", reports said.
Yang Dacai first came under scrutiny from Chinese Internet users after he was pictured grinning broadly as he assessed the twisted wreckage of a bus and a methanol tanker, following an accident which left 36 people dead last year.
The former work safety boss in the northern province of Shaanxi was later derided online after images of him wearing various luxury brand watches were tracked down and circulated.
"I worked for several decades, before finally taking the road to crime," he told the Intermediate People's Court in Xi'an, Shaanxi's provincial capital, according to state news agency Xinhua.
"It is useless to repent after falling into the abyss of crime, but I sincerely want to confess and regret the crime I committed, and beg the court to give me a brand-new start in life," he added.
The sentence was imposed yesterday following a one-day trial last week, in which Yang was accused of having property worth 5.04 million yuan (S$1.1 million) from unexplained sources and accepting 250,000 yuan (S$52,000) in bribes, state broadcaster CCTV said.
The 5.04 million yuan "probably" represented "presents from junior officials and old school friends during festivals", Yang said previously, according to domestic reports. He did not object to the charges and was also fined 50,000 yuan.
"The court ordered confiscation of the 250,000 yuan in bribes he took and over 5 million yuan of property he failed to account for," Xinhua added.
The trial followed an investigation by the ruling Communist Party's discipline inspection commission, which found Yang guilty of "inappropriate 'smiling face' behaviour" and dismissed him from his post. Yang's highly publicised and widely discussed downfall was played out amid a drive by the authorities to contain popular anger at public servants' perceived expensive tastes and corruption.
Pictures posted online showed him wearing 11 flashy watches - five of which were together worth more than 300,000 yuan, the China Daily newspaper quoted an expert as saying. Other images showed him wearing designer glasses and belts.
The sentencing saw many netizens return to China's hugely popular microblogging sites to ridicule Yang. Many bloggers complained that the sentence was too lenient.
But while the authorities have in the past reacted to online whistle-blowing of corrupt practices, a wide-ranging clampdown on "online rumours" has been launched in recent months, targeting scores of online companies, bloggers and journalists.
Hundreds of people are estimated to have been questioned or detained as a result.
Last month, officials told Internet celebrities with millions of online followers to "promote virtues" and "uphold law" online.