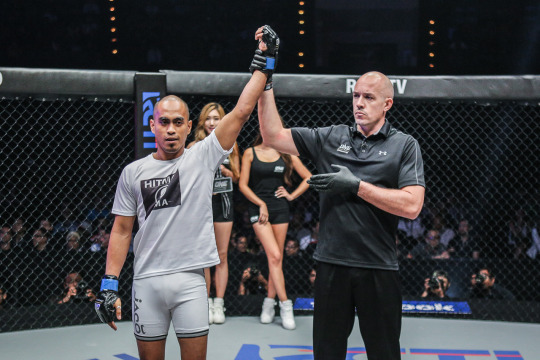 For Filipino bantamweight Burn "Hitman" Soriano, the thrill of competition inside the cage is blessed relief, after facing a series of circumstances that would test any man.
Soriano suffered the loss of his father Bernardo in 2013, a reality all children have to face at some point in their lives. But what followed made a difficult time even worse.
"My dad was an engineer, a family guy, very responsible," he recalled. "Of course, he made mistakes in his life, and I looked up to him because of how he got back to his feet from those mistakes until he died."
Prior to his death, Soriano's father reluctantly granted his son's wish to allow him to move away from life as a working professional, and dedicate his life to competitive martial arts.
"When I watched martial arts back when I was young, I told myself that this is what I wanted to do," he explained. "Even as I graduated and finished school, I wanted this to be my job.
"He was definitely disappointed, but when you know that your child wants what he wants, then there is nothing you can do. I just really wanted to compete. But he always supported me."
Competing with the blessing of his father, it seemed as if the only way was up for Soriano, but when his father passed away following a stroke in 2013, it turned his world upside down.
"It was his fifth stroke," he explained. "I admire his character of being a tough guy, not only in terms of his physical toughness — imagine having multiple strokes and not being paralysed."
Dealing with his father's death was only part of the challenge, as a series of business deals struck by his father were torn up following his death, leaving Soriano and his family in debt to his family business' clients.
"After that happened, I went away from the martial arts scene," Soriano explained. "I hid from everyone, because I did not have the courage to face them."
Fortunately, Soriano regained his competitive fire, and soon resumed his career, even signing with ONE Championship. Despite scoring a highlight reel spinning back fist KO of Mario Satya Wirawan, however, a mixed series of results led him to reconsider his training.
Something needed to change, and that change came from an unexpected source, with an offer of help from current ONE Heavyweight World Champion Brandon "The Truth" Vera.
"It was like luck hit me," he said. "That was when Brandon came in. He told me, 'Hey, come with me, train with me.'"
Now training alongside world-class teammates every day, Soriano is improving his skill set as he looks to reignite his career, and honour his father by taking his martial arts journey as far as he possibly can.
As a youngster, Soriano studied aikido, kickboxing, and western boxing, but in his early bouts he came unstuck due to his lack of grappling skills.
"When I first started, I thought kickboxing would be enough," he admitted. "Then I faced someone who was a real grappler. He knew how to take me down and was so adept at submissions. It was there that I realised that I cannot rely on striking alone. So I started adding wrestling, then later, Brazilian jiu-jitsu."
Now, competing alongside the cream of ONE Championship's martial arts talent, Soriano says he's better prepared than ever, as he gets set to take on China's 'Rock Man' Chen Lei at ONE: HERO'S DREAM in Yangon, Myanmar, on 3 November.
"I think this is my most complete training camp," Soriano enthused. "I think this is the first time that I have reached my peak. Even if the bout were to last for five rounds, I would not get tired. My training camp is like a match every day."
Now, fired by the desire to continue his martial arts journey and guided by Vera and his team, Soriano believes good things are on the way.
"I am not doing this for the money," he states. "I am doing this for the passion and the excitement it gives me. With Brandon Vera and coach George Castro by my side, this is going to be a war. This time, I am not just going to give an exciting performance. I am going to win."