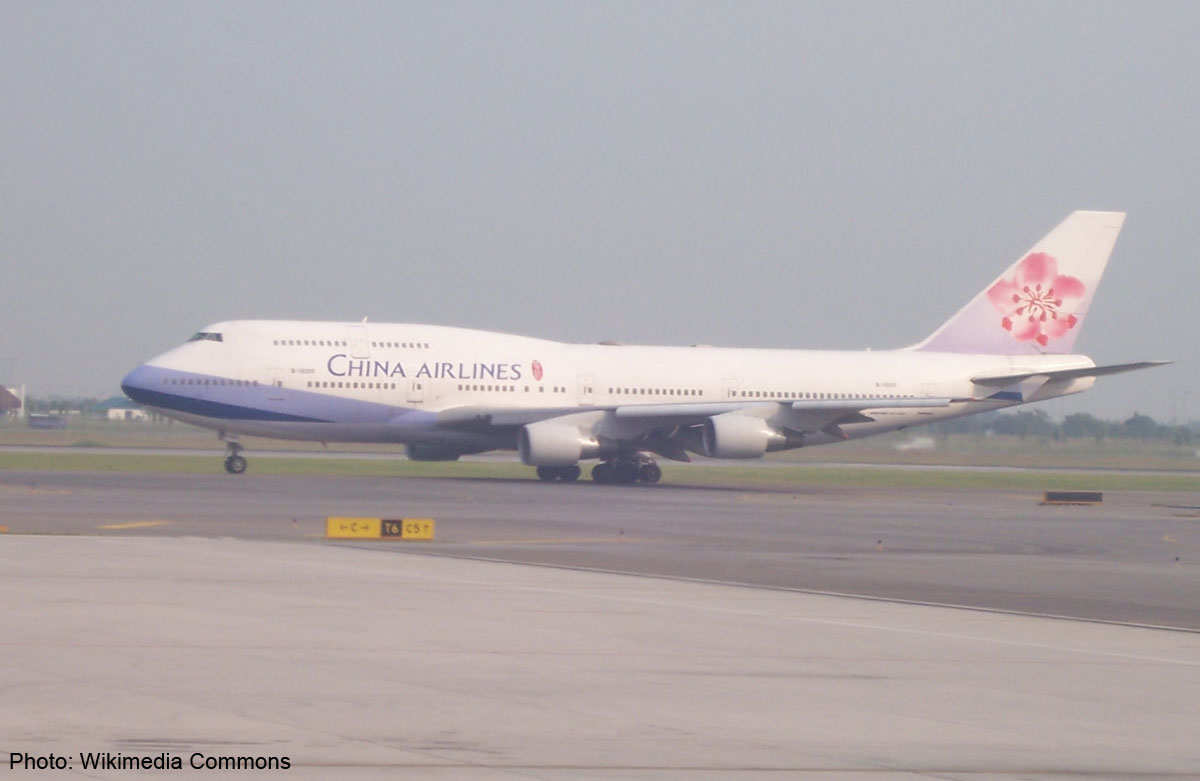 TAIPEI, Taiwan - China Airlines (CAL) plans to double the number of weekly flights from Taipei to Busan to 14, respectively, in late October, according to an Economic Daily News report.
Economic Daily News recently reported that China Airlines is mulling expanding its passenger flights for the Taipei-Busan route given that demand for the route may see significant growth this year.
According to the report, China's Airlines' decision is based on annual growth of Taiwan-bound South Korean passengers having soared 77.14 per cent in the first seven months, with South Korea-bound Taiwanese passengers up 20.67 per cent.
To cash in on the imbalance, China Airlines plans to double the number of weekly flights from Taipei to Busan to 14 from the current seven starting on Oct. 26.
China Airlines' Chairman Sun Hung-hsiang earlier told the Central News Agency that starting Oct. 26, two flights will be scheduled per day.
China Airlines is also expected to increase the number of weekly flights from Kaohsiung to Seoul to 14, in addition to opening a new route from Taichung to Seoul with seven weekly flights.
World's Sixth Cargo Shipper
Concurrently, China Airlines moved up one notch to become the world's sixth largest cargo shipper last year, according to a Commercial Times report.
Commercial Times cited the Canada-based International Air Transport Association (IATA) which reported that in 2013, China Airlines carried consigned goods of 1.197 million tons, up 8.9 per cent from 2012's 1.099 million tons, exceeding the 1.092 million tons carried by Singapore Airlines.
In terms of freight revenue ton kilometer (FRTK), China Airlines recorded 4.813 billion ton-kilometers last year, up 6 per cent from 2012's figure to rank No. 10 globally.
With economic recovery in parts of the world, China Airlines witnessed a sizable 13-per cent year-on-year growth in freight volume in the first eight months of this year, with such volume to keep ballooning in the fourth quarter due to shipments of electronics products for the Christmas season.
China Airlines has 80 freighters with 21 being B747-400F cargo-only aircraft, flying to 32 destinations globally in 84 cargo flights weekly, mainly to North America, Japan, mainland China and Southeast Asia.
The company's passenger aircraft also have room for cargo, with a Boeing 747 able to carry 20 tons, an Airbus 330 15 tons and a Boeing 737 2.5 tons.
In October 2012 China Airlines joined SkyTeam Cargo to become Taiwan's only airline in the group and in March of this year the airline became one of IATA's Cargo 2000 members, making it the first Taiwanese company in the international air transport organisation.