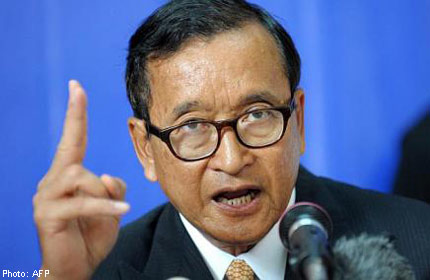 CAMBODIA - Cambodia's opposition leader Sam Rainsy has rejected the results of Sunday's election, claiming the opposition was robbed of victory by Prime Minister Hun Sen's Cambodian People's Party (CPP).
"We don't accept the results; there are too many irregularities, with far-reaching implications, that have distorted if not reversed the will of the people," he told a press conference on Monday.
Mr Rainsy demanded a probe by a "joint technical committee" comprising the United Nations, foreign government experts, and both his Cambodia National Rescue Party (CNRP) and the CPP.
The ruling party won 68 of the 123 National Assembly seats up for grabs on Sunday, down significantly from 90 previously.
In contrast, the CNRP, riding a wave of support from young Cambodians and voters disenchanted with Mr Hun Sen's 28-year rule, nearly doubled its share of seats from 29 to 55.
Independent election watchdogs reported widespread irregularities, including possibly up to one million voters disenfranchised when they found their names missing from lists at polling stations.
Cambodia's National Election Commission has denied the charges while Mr Hun Sen has yet to make any public statement.
Just hours after Mr Rainsy challenged the result, Transparency International Cambodia (TIC) told reporters that the election result "does not necessarily reflect the will of the people".
Essentially endorsing Mr Rainsy's demand, TIC executive director Kol Preap said his organisation, which gathered reports and data from more than 400 polling stations across the country, recommended that "an independent body needs to find out the facts… and determine whether these irregularities were enough to alter the outcome of the election".
The TIC report said that in 60 per cent of polling stations, citizens with proper identification could not find their names on the voters' lists.
This was consistent with other independent findings that almost 11 per cent of eligible voters found they could not cast their ballot.
In one instance of this, a group of angry voters in Phnom Penh rioted on Sunday, setting fire to police cars.
Also, in up to 12 per cent of polling stations, about half of voters with only temporary identity papers were allowed to vote, TIC said.
Said Dr C. Kek Pung, president of the Cambodian League for the Promotion and Defence of Human Rights, which also deployed observers on Sunday: "People need to know the truth and trust the result. An election should be seen by Cambodian people and by the international community as free and fair."
Mr Rainsy said his party's future course of action would depend on the results of the investigation.
"We are asking for this not to bargain for positions in the government," he said. "What we are interested in is to... ensure that the will of the Cambodian people will not be distorted or reversed."
He said it was "premature" to talk about power sharing in the new government.
Asked if there was any communication with the CPP, he said: "I think channels will be established in the very near future."
nirmal@sph.com.sg

Get a copy of The Straits Times or go to straitstimes.com for more stories.