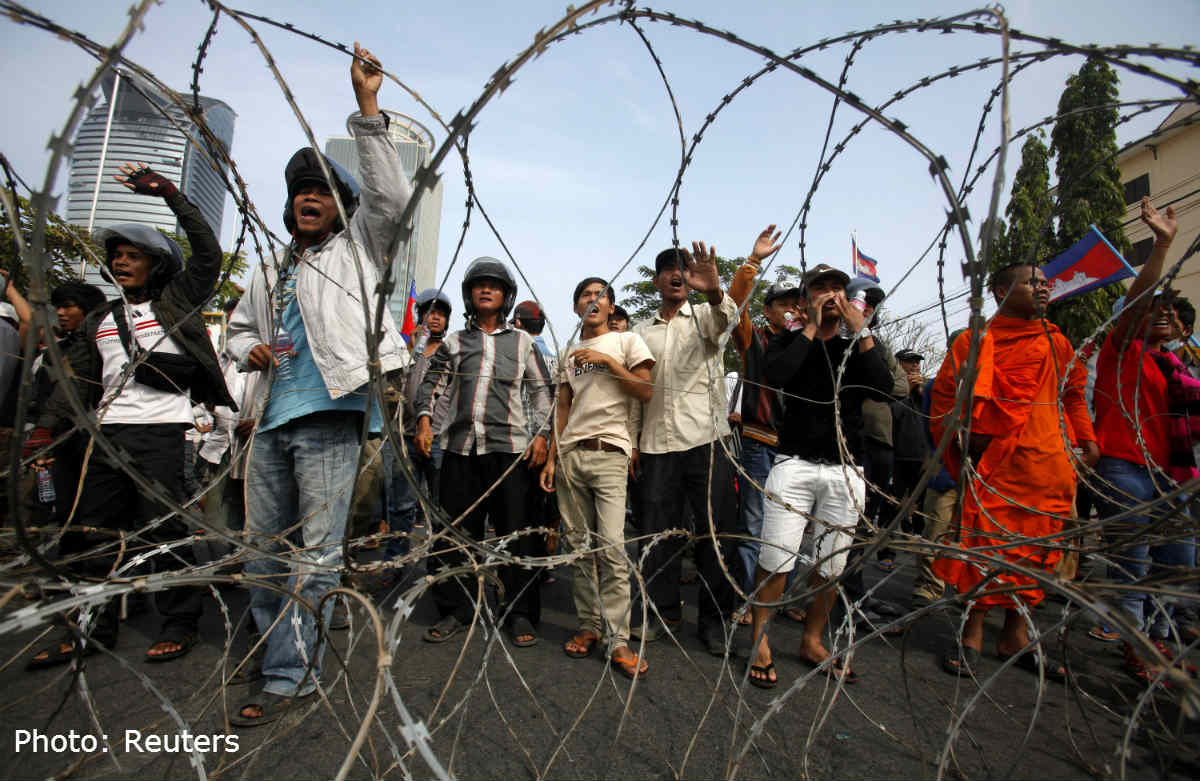 PHNOM PENH - Cambodia's opposition warned strongman premier Hun Sen of a "final campaign" against him unless fresh elections are held, as it rallied Friday in the country's northwest despite recent bloody crackdowns on protesters.
Opposition leader Sam Rainsy and his deputy Kem Sokha met hundreds of supporters in Siem Reap province after authorities banned anti-government rallies in the capital and renewed calls for Hun Sen to resign over alleged vote fraud in July 2013 polls.
"If he does not agree to a new election, we will start the final campaign. That will be to make him step down," Kem Sokha told a cheering crowd, according to a live stream from the rally on his Cambodia National Rescue Party website.
Authorities chased opposition protesters from their rally site in the capital Phnom Penh on Saturday and banned all anti-government demonstrations indefinitely after bloody clashes between striking garment workers and security forces that saw police shoot several people dead.
In the face of growing international alarm, the government has defended the crackdown, denouncing the rallies against Hun Sen as violent and illegal.
Rainsy and Kem Sokha, who have been summoned to Phnom Penh Municipal Court on January 14 for questioning in connection with the recent unrest, are planning similar rallies in two more provinces over the weekend.
"We are not scared, brothers. We did not commit any wrongdoing," Sam Rainsy told supporters as they chanted "Step down, Hun Sen".
The rally was peaceful, local witnesses told AFP, although a few security officers were deployed nearby.
Rainsy's CNRP has boycotted parliament since last year's election, alleging that Hun Sen was returned to power because of widespread vote-rigging.
The Cambodian premier, who has ruled for 28 years, has faced mounting criticism over his rights record as well as accusations of excessive force against demonstrators.
Last Friday police opened fire on striking garment factory employees demanding a minimum wage of US$160 (S$203.10) per month for their work in an industry which supplies brands including Gap, Nike and H&M.
Rights activists said at least four civilians were shot dead in what they described as the country's worst state violence against its citizens in 15 years.
The strike has since been called off and most of the garment workers have returned to work.
In the clearance of the long-standing opposition rally site in a Phnom Penh park on Saturday, activists said dozens of security personnel armed with shields and batons chased away hundreds of protesters - including monks, women and children.
Hun Sen, 61, has vowed to stay in power until he is 74.