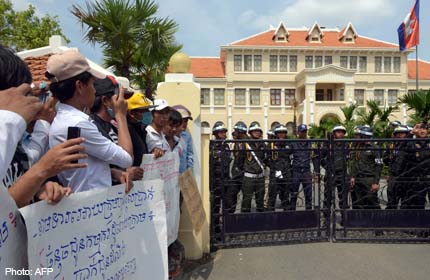 PHNOM PENH - Around 4,000 Cambodian garment workers protested on Thursday after a factory supplying global brands including Gap and H&M fired hundreds of their colleagues for striking over conditions.
Union leaders said the Singapore-owned SL Garment Processing factory fired 720 workers on Wednesday while more than 5,000 others were suspended after a two-week long strike.
Workers had walked out claiming intimidation over regular factory inspections carried out by an official flanked by military police.
The workers on Thursday marched some 10 kilometres (six miles) from the factory to Phnom Penh's City Hall to urge the government to intervene in the dispute.
"We want the factory to allow the workers to go back to work," union leader Ath Thorn, president of the Coalition of Cambodian Apparel Workers Democratic Union, told reporters.
"But if they want to close they factory they must pay compensation to workers according to the law," he said.
Ath Thorn called for help from representatives of more than two dozen global clothing brands, who are holding a closed-door meeting this week in the capital to discuss the country's garment industry.
A Cambodian investor in the factory confirmed the staff dismissals.
"Their strike was illegal," Meas Sotha told AFP, adding the factory had not intended to intimidate workers with the presence of armed police on site.
The company would pay compensation to the sacked workers while the others would be allowed to return to work on Monday, he added.
Disputes over wages, safety and conditions in Cambodia's lucrative garment industry are frequent.
The multibillion-dollar industry employs about 650,000 people and is a key source of foreign income for the impoverished country.
Currently workers can earn around $110 a month with overtime.
In July the International Labour Organisation (ILO) accused Cambodia of backsliding in efforts to improve working conditions in the sector.
The kingdom was failing to make progress in areas such as worker and fire safety and the use of child labour, the ILO said in a report.
Concerns over worker safety intensified in May after a ceiling collapse killed two workers at a Taiwanese-owned factory producing shoes for Japanese sports brand Asics.
Cambodian Prime Minister Hun Sen has said protests may imperil the country's garment industry by persuading firms to relocate to Myanmar, Laos and India where labour is cheaper.