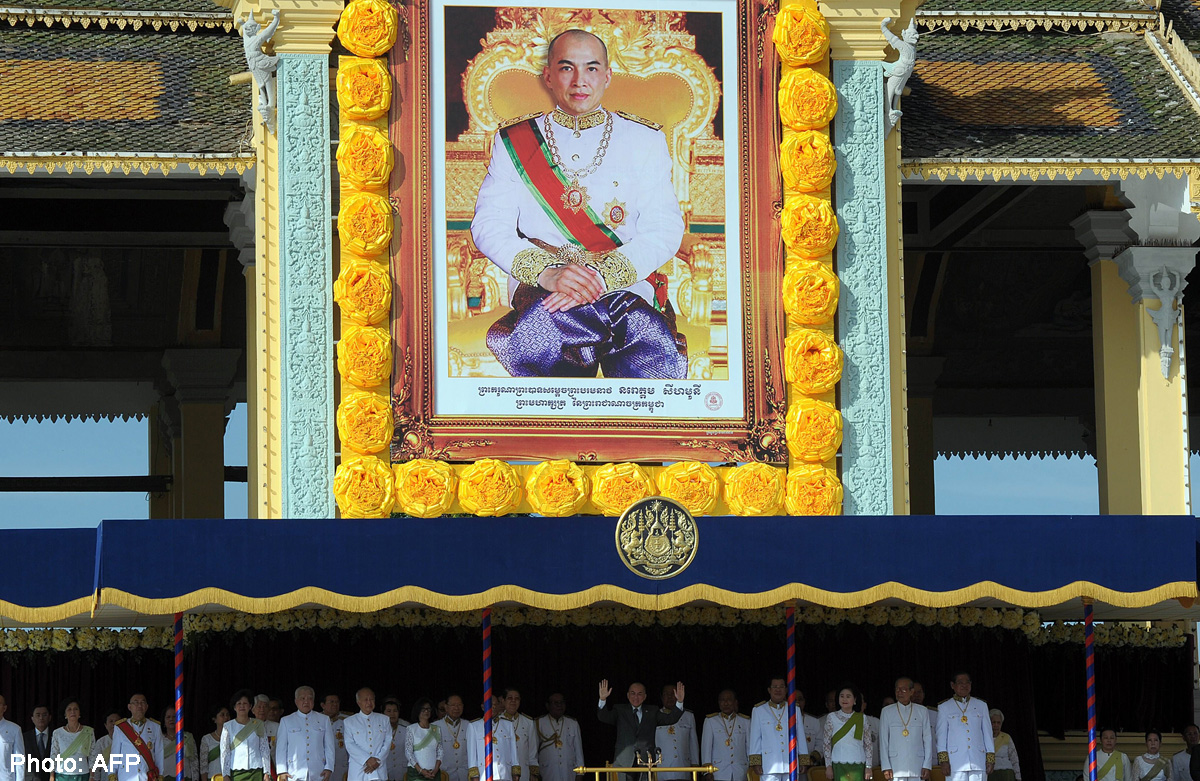 PHNOM PENH - Thousands of well-wishers Wednesday celebrated the 10th anniversary of the coronation of Cambodia's King Norodom Sihamoni, who has taken a low-profile role in contrast to his mercurial late father.
Sihamoni, a polyglot former diplomat and trained ballet dancer, was crowned after the abdication of King Norodom Sihanouk in 2004, but has not shared his father's taste for political intrigue.
As a constitutional monarch observers say he has ruled quietly, fulfilling a symbolic role as head of state crafted in a deal between his father and ruling strongman Prime Minister Hun Sen in the early 1990s.
Speaking to a crowd of some 10,000 people including Buddhist monks and officials, many dressed in white and bearing flowers, Sihamoni praised Hun Sen's political leadership - which has survived a year-long political crisis after contested elections in 2013.
"Hun Sen the most clever leader, has set out suitable policies to bring peace and happiness and stability," Sihamoni told the crowd.
"We can say that our nation and Cambodian people have a good future." Hun Sen was returned to power in a July 2013 election which led to months of political deadlock amid accusations of widespread ballot-rigging.
The opposition Cambodia National Rescue Party boycotted parliament for nearly a year. But the impasse was broken after it received guarantees of electoral reform.
Many among Wednesday's crowd had assembled since dawn outside the royal palace in Phnom Penh to pay tribute to a devoutly Buddhist king whose low-key approach has won public admiration.
"I love him so much. That's why I came here," Lim Chan Sinat, a 17-year-old student from the capital, told AFP.
"He has helped the Cambodian people, especially the poor." Sihamoni speaks French, Czech and English after spending much of his adult life abroad pursuing a career in the arts - including establishing his own ballet company - before taking the throne.
Shortly before his abdication, Sihanouk said his son was "neutral, not involved in politics" - paving the way for a low-key reign.
Sihanouk died of a heart attack in October 2012. He is credited by many elderly Cambodians with overseeing a rare period of political stability in the 1950s and 1960s, following independence, until the outbreak of a civil war and the coming to power of the genocidal Khmer Rouge in the 1970s.