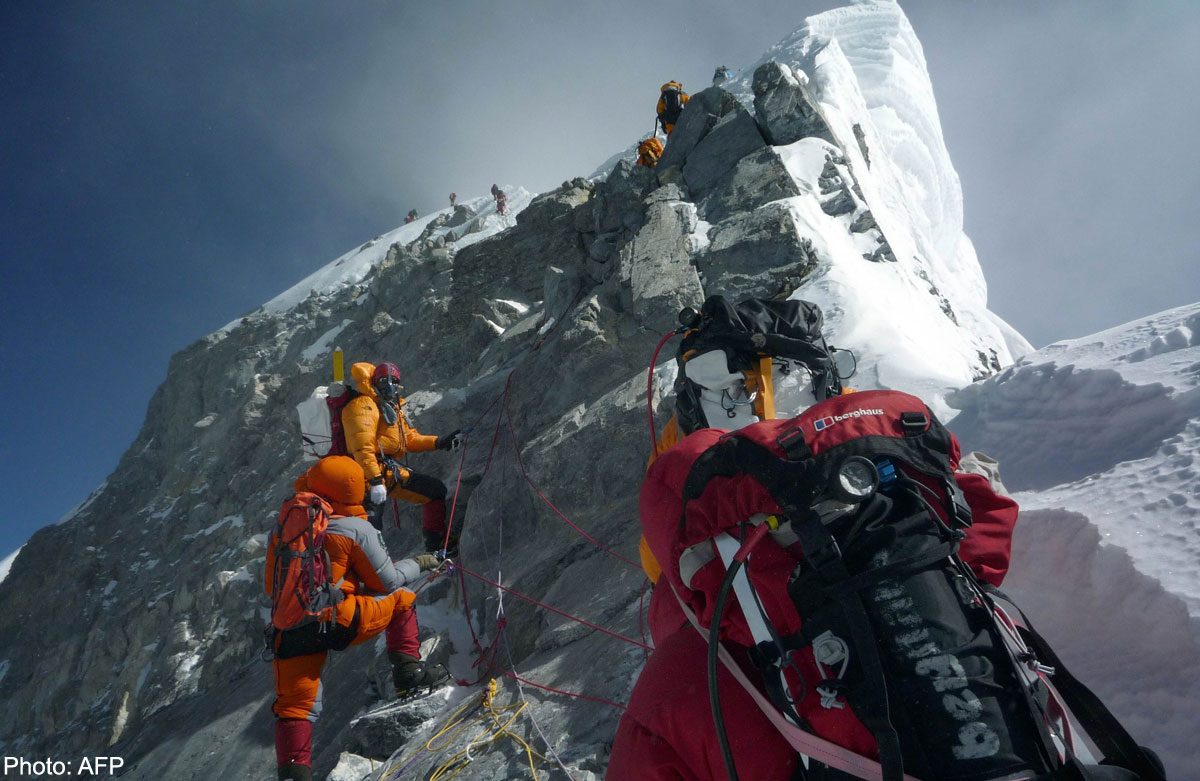 KATHMANDU - Another major mountaineering company has abandoned its Everest expedition after a deadly avalanche killed 16 Nepalese guides last week as the government battled Wednesday to save the climbing season, a vital earner for the country.
Adventure Consultants, a New Zealand-based group, lost three people in last Friday's avalanche which struck a party of sherpas preparing routes for commercial climbers up the world's highest peak.
The company released a statement late Tuesday saying that "after much discussion and consideration of all aspects, the tough decision has been made to cancel the 2014 expedition this season".
US-based Alpine Ascents International and Discovery Channel, which was planning to broadcast the first winged jumpsuit flight off the summit, have also scrapped their intention to scale the 8,848-metre (29,029-foot) peak.
Hundreds of others at base camp who have paid tens of thousands of dollars for their expeditions face bitter disappointment after sherpas announced Tuesday that they would abandon the season to honour their fallen colleagues.
That decision, which would wreck the season and lead to messy compensation claims, featured in crisis talks under way in Kathmandu between tourism officials, representatives of the sherpas and expedition leaders on Wednesday.
British mountaineer Phil Crampton, owner of climbing company Altitude Junkies, told AFP that "we asked for immediate action to make expeditions possible this year".
He added: "A high-level delegation of the government will head to base camp tomorrow to present a document to the sherpas and address their concerns." Before Tuesday's call to abandon the season, the guides had issued a string of demands to the government, including higher compensation for the dead and injured, an agreement to revise insurance payments and a welfare fund.
Late Tuesday, the government said it had agreed to set up a relief fund for injured guides, using up to five per cent of fees paid by climbers, and increase life insurance payments by 50 per cent.
The amounts fall short of the sherpas' demands.
They had asked for 30 per cent of climbers' fees to be earmarked for the fund and called for life insurance payments, set at US$10,000 (S$12,600), to be doubled.
The government, expected to earn at least US$3 million this year from Everest climbing fees alone, has issued permits to 734 people, including 400 guides, for 32 expeditions this season.
The New Zealand firm that pulled out of Everest Wednesday was also a victim of what was previously the worst disaster on the mountain in 1996, which was immortalised in the best-selling book "Into Thin Air".
Adventure Consultants lost four people in the tragedy, which saw a storm envelop climbers at high altitude, killing eight in total.
More than 300 people, most of them local guides, have died on the peak since the first ascent by Edmund Hillary and Tenzing Norgay in 1953.