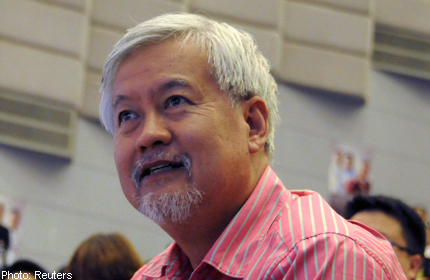 BEIJING - A recent anti-prostitution sting operation in Beijing led to 27 arrests, but only one man was singled out and he grabbed headlines not just in China but globally too.
The reason, many believe, is Chinese-American investor Charles Xue's status as a "Big V", an informal term for China's celebrity microbloggers, who command a huge influence through the Twitter-like Weibo portals.
The arrest last month of Mr Xue, who has 12 million fans following his Sina Weibo tweets daily, is viewed widely as politically motivated and part of the Communist Party's ongoing crackdown on vocal netizens.
Mr Xue and other Internet celebrities - such as novelist Murong Xuecun, whose Weibo accounts were shut after he reportedly ran foul of the authorities with his politically sensitive postings - have cast the spotlight on the Big Vs.
The name, which stands for verified microblog accounts with large fan bases, came about after Sina Corp launched its Weibo portal in August 2009. It soon began attaching a V sign next to names of users whose identities have been ascertained to be bona fide.
By end-2011, there were some 300,000 "verified" users on Sina Weibo, which now has over 500 million users, of whom more than 54 million are active.
Not all are individual bloggers as many Weibo accounts are also run by organisations such as government agencies, schools, companies and foreign embassies.
The more popular Big Vs are usually individuals who attract huge followings through their status, personalities and willingness to express views or discuss issues hardly seen in media controlled by the Communist Party.
Sina Weibo, the largest of several microblog operators in China, is said to have "several thousand" users, each with at least one million fans, the commonly accepted yardstick to be considered a Big V. There are some 210 Big Vs, who each have at least 10 million fans, on Sina and Tencent Weibo.
Actor Chen Kun tops the Big V charts with 56 million fans, followed by actress Ruby Lin, with 52 million. Other popular Big Vs are former Google China boss Lee Kai-fu (51.4 million) and tennis star Li Na (21.7 million).
Becoming a Big V requires hard work, said novelist Su Qin, 33, who started her Sina Weibo account in 2009 and now has over 40 million fans on her Sina and Tencent Weibo accounts.
"As a novelist used to writing in long sentences, I found it hard to get used to the 140-word limit on Weibo. But after I learnt how to express my thoughts concisely, the fans just started coming," Ms Su told The Straits Times.
She thus supports the authorities' efforts in weeding out bogus Big V accounts or irresponsible users who resort to spreading online rumours to attract fans.
Chinese Internet czar Lu Wei last month urged the Internet celebrities to "promote virtues" and to "uphold law and order".
Sina Weibo said at a briefing on Thursday that it has tightened its procedure in awarding the V status: It now takes five days and rejects 80 per cent of applications, up from three days and 60 per cent previously.
Applicants have to provide details such as name, phone number, identity number and occupation, it said. They also need to submit a copy of their employment certificate that is certified by their employer.
Mr Dong Xu of the Analysys International consultancy said the high level of trust Big Vs enjoy among netizens has also proffered commercial opportunities for quick-thinking entrepreneurs.
Big V accounts are for sale on the Taobao online marketplace. Companies are also known to turn to Internet marketers to promote their products or even conduct smear campaigns against rivals through Big Vs who are eager to earn a quick buck.
The going rate for a Big V with 100,000 fans to re-tweet a post is around 200 yuan (S$42), according to a marketer interviewed by the Southern Metropolis Daily earlier this year.
Lawyer Yuan Yulai, 47, is believed to be the most widely followed Big V in China's legal profession with 1.2 million fans.
He told The Straits Times that Internet marketers have approached him to help peddle products like books for a fee or offered to buy his Weibo account, but he had turned them down.
"To me, the Weibo account is not aimed at earning money but fulfilling my social responsibility in improving legal awareness."
kianbeng@sph.com.sg

Get a copy of The Straits Times or go to straitstimes.com for more stories.