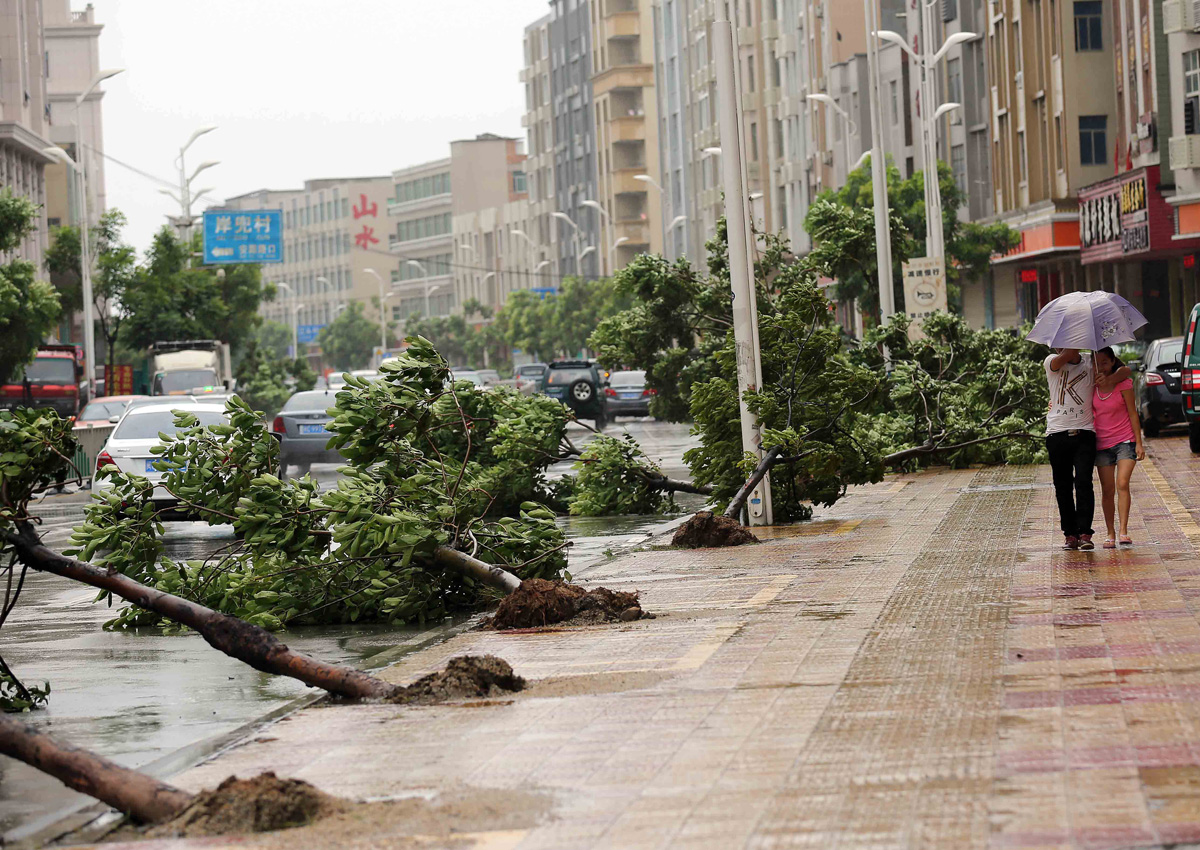 Residents in central, southern Taiwan and mountainous areas in southeastern Taiwan's Taitung County should heighten their alert against severe weather due to southwestern winds introduced by Typhoon Soudelor as it moves away from the island, the Central Weather Bureau said Saturday.
As of 1:00 p.m., the storm was centred 30 km east-northeast of outlying Penghu County, moving at a speed of 18 km per hour in a northwesterly direction, the bureau said.
It is packing maximum sustained winds of 144 kph, with gusts reaching 180 kph, it said.
Although gusty winds and rainfall have subsided in northern Taiwan after Soudelor exited into the Taiwan Strait mid-morning, the storm's impact on central and southern parts of the country has just begun to reach its fullest, forecasters warned.
Strong winds and torrential rainfall, which could reach 350 millimeters in 24 hours, is expected in most areas in Taiwan, the bureau said.
Between midnight Friday and 1 p.m. Saturday, Taiping Mountain in eastern Taiwan's Yilan County topped all regions with an accumulated rainfall of 1,277 mm, bureau data showed.
The strongest gusts, reaching some 210 kph, were felt in Suao Township in Yilan and Pengjia Islet off northern Taiwan, it said.
Flights Disrupted
Air traffic in Taiwan was seriously disrupted Saturday due to Typhoon Soudelor, which had been battering the island with gusty winds and torrential rains since late Friday, according to the Civil Aeronautics Administration (CAA).
All 279 domestic flights were cancelled for Saturday, and as of 11 a.m., 37 international flights were cancelled and 68 international flights were delayed, the CAA said.
Several Taiwanese carriers also extended flight adjustments for Saturday due to severe weather conditions.
EVA Airways, which originally said all its international flights will operate as usual on Saturday, announced cancellations on its flights BR190, BR189, B7268, BR267, BR835, BR836, BR120, BR119, BR807 and BR808.
V Air said its flights ZV9006 and ZV6032 will both be delayed for another day for departure at 9:35 a.m. and 10:15 a.m. on Sunday, respectively.
More reports on flight disruptions from other airlines are expected later Saturday.