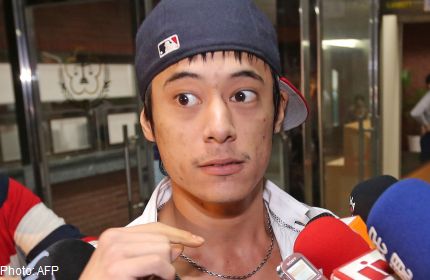 TAIPEI - Andrew Chiang, son of Kuomintang (KMT) Central Committee member Chiang Fang Chih-yi, was sentenced yesterday by the Shilin District Court to 6 months in prison and a fine of NT$180,000 (S$7,506) following allegations of making explicit threats to Taipei American School (TAS) dating back to November of last year; Chiang Fang originally defended her son when allegations were first released by the school and had him released from custody on bail
Other members of Andrew Chiang's family, however, including his siblings, did not support him throughout the trial.
The fourth generation of the Chiang family and great-grandson of Chiang Kai-shek, who attended TAS over seven years ago, was sentenced for sending threatening emails to the principal of TAS claiming that he was a "terrorist" and "would plant a bomb in the school," "killing the teachers." He was also reported to write similar threatening comments on his Facebook page between August and November of last year.
During the court proceedings, TAS was represented by the school's lawyer who was pressing charges against Chiang, who pleaded innocent. Chiang's lawyer said during the court hearing that his client's Facebook posts were simply a means of venting frustration, and some of the statements were lyrics taken from popular songs.
Chiang's lawyer previously stated that the wording and translation of the prosecutor's lawsuit was not perfectly consistent with all claims made. One example given was "How could he (Chiang) alone kill a school no matter what kind of weapon, gun, sword, or bomb he had," the lawyer commented. The lawyer added that Chiang did not specify how he could potentially harm the school's teachers. In his own defence, Chiang also claimed that his mental and emotional states were unstable during the times when he commented on social media.
According to the verdict, following threats by Chiang, TAS felt the need to implement 24-hour security around the school property. The school's principal and vice principal felt this was a necessary step to respond to disturbing threats toward themselves and the school. Despite the 6-month sentence and fine, Chiang still does have the option of appealing to case to a higher court.