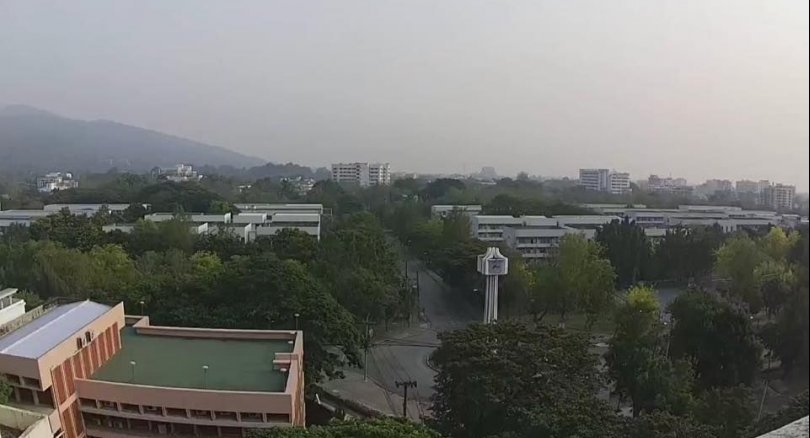 The amount of small dust particles in Chiang Mai province has risen sharply after the 51-day ban on outdoor fires ended last Friday.
The ban had been imposed between March 1 and April 20 as a measure to fight air pollution. 
As of press time on Sunday, the sacred Doi Suthep Mountain was almost invisible to the naked eye. Satellite images have revealed that the number of hotspots, which are widely blamed for increasing the amount of dangerous dust particles, have jumped during the past two days
Health experts have said the amount of PM2.5 particles, for example, have already far exceeded the level that could be harmful to health. 
People are advised to avoid outdoor activities. If they need to go out, they should wear a mask as a precaution. The N95 standard is required to filter PM2.5 particulates.
Photo: The Nation/Asia News Network
Assoc Professor Sate Sampattagul, who heads the Chiang Mai University's Climate Change Data Centre, said on Sunday that locals had largely complied with the ban this y ear. 
"So after the ban is lifted, there are a large amount of weeds to burn down. Locals want to act fast or else the rain might arrive first," he said. 
He said after the ban ended, the amount of small dust particles soared significantly. 
In Chiang Mai's Chom Thong district, the amount of the dangerous PM2.5 reached 316 microgram per cubic metre of air, while the amount of PM10 rose to 332 microgram per cubic metre of air. 
"This is beyond safe limits," Sate added. 
According to the World Health Organisation, the amount of PM2.5 should not go beyond 25 μg/m3 for a 24-hour mean, while Thailand's standards double that to 50 μg/m3. And PM 10, should not exceed 50 μg/m3 for a 24-hour mean. 
Sate continued to hope that the smog problem will ease after the temperature begins to rise. 
"The situation will improve as season changes," he predicted.