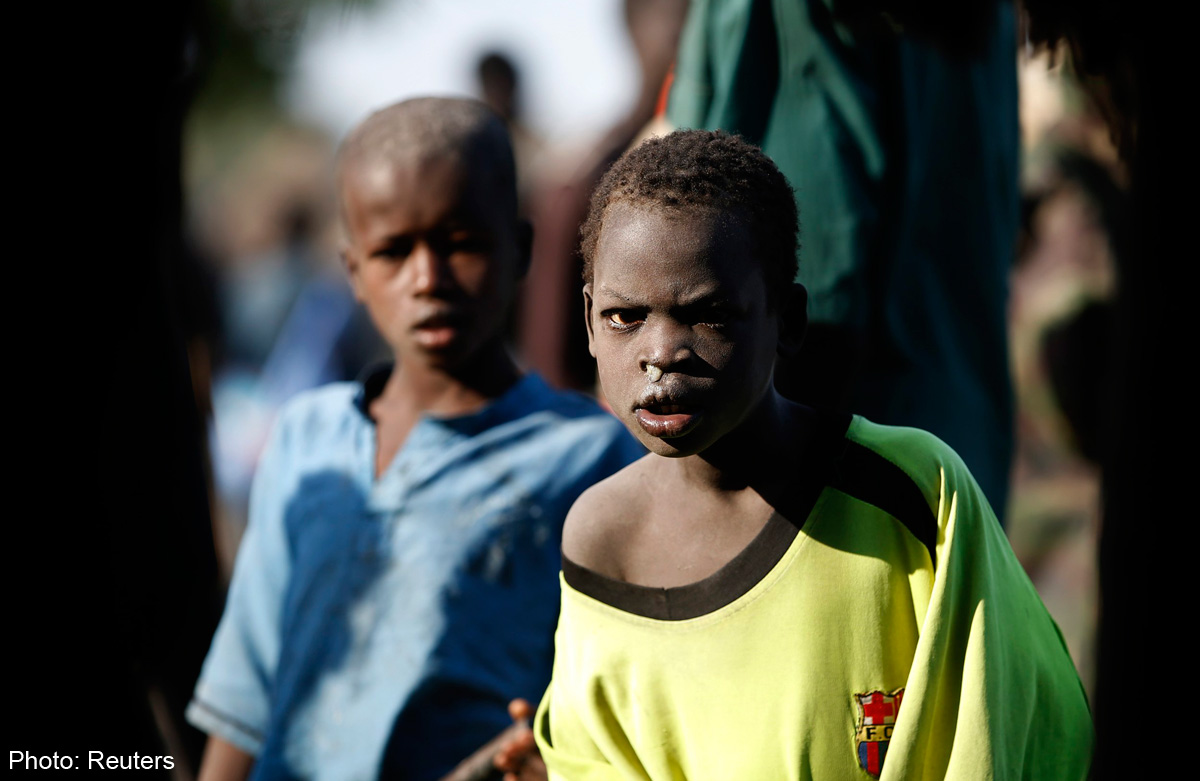 NASIR, South Sudan - Like many 13 year-olds, Gach Chuol is timid, shyly looking down at the ground as he speaks to a stranger.
But he is also joining South Sudan's war to avenge the death of his parents, and brandishes an AK-47 assault rifle as he recalls why he traded his school books for arms.
"I just want to fight because of what they have done to my parents," said Chuol, speaking at a rally organised by the White Army, a militia that took up arms again to fight government troops in South Sudan's four month-old civil war.
Brutal fighting has pitted President Salva Kiir's forces against those loosely allied with rebel chief Riek Machar, sacked as vice president in 2013.
The conflict has spread from the capital Juba to oil-rich states, with the rebels this week celebrating the recapture of the key town of Bentiu in a renewed rebel offensive they claim will seize crucial oil fields.
But it has also taken on an ethnic dimension, pitting Kiir's Dinka tribe against militia forces from Machar's Nuer people, and the scale of the fighting has led aid workers to warn of possible famine.
UN Secretary General Ban Ki-moon warned Wednesaday that "without immediate action, up to a million people could face famine in a matter of months".
However teenagers like 15-year-old Matt Thor, whose father was killed shortly after fighting broke out on December 15, are consumed by the desire for retribution.
"I want to go and kill," he said, holding a gun too big for his small frame. "I want to go to the place of war, because I want to fight with Dinka."
Dressed in civilian clothing and posing with rifles and machine guns grabbed from those they've killed, the White Army is loosely tied to Machar's army, but follow their own informal command structures.
They are named after the white ash the fighters smear over their bodies, both as fearsome war paint and to ward off the mosquitoes that infest the vast roadless swamplands and grasslands they control.
For them, the war appears an ethnic not political struggle, a fight for revenge that promises to perpetuate a conflict in which thousands have already been killed and forced a million people to flee.
No recruit too young
Many pay no heed to dragging peace talks in Ethiopia, saying they will continue fighting until Kiir is out of power.
"If it means the people fight until the last man falls, then they will do that," said Koang Monying, a White Army commander in the former mission-station of Nasir in oil-rich Upper Nile State.
Monying insisted he was not actively recruiting children, but said there is no bar to membership for those that want to join.
"Some of these young boys are very bitter because they lost some of their relatives," he said, as scores of soldiers sang war songs, with the crackle of rifle fire as they shot in the air. "They decided to take up arms to carry out revenge."
Machar, speaking to AFP from his rebel hideout in Upper Nile, dodges the issue of his relationship with the White Army, claiming not to support child soldiers but admitting the force - accused of massacre and rape - are a "helping hand".
"We don't deny them, they are part of us, we fight alongside each other against the government forces, but we tell them what should not be done in warfare," Machar said.
White Army members say they are not fighting for Machar, whose political ambitions are far removed from their traditional cattle-herding lives.
"We are not fighting because of him, we are fighting because of what happened in Juba... it is revenge," said gun-toting fighter Dama Gatech, referring to massacres that took place when fighting first broke out.
But both the White Army and Machar's more regular forces - defected soldiers from the government's army - have scant resources, relying on stolen supplies.
"We were forced to fight, that's why now we don't have resources," said Garthoth Gatkuoth, rebel commander for Upper Nile, dressed in military fatigues and running shoes.
But dozens of White Army fighters still set off for the frontline each day, commanders say.
Nhial Lual, 35, is preparing to go to the oil fields as soon his gunshot wound from a previous battle heals, saying he has no qualms about killing his fellow countrymen.
"They are not my brothers," Lual said. "Regardless of how long it takes, even if it takes 10 years, I will defeat them."
Teenager Chuol said he wants to go back to school if the war ends, but for now will head to the frontline.
"I am not afraid," the slight boy said.