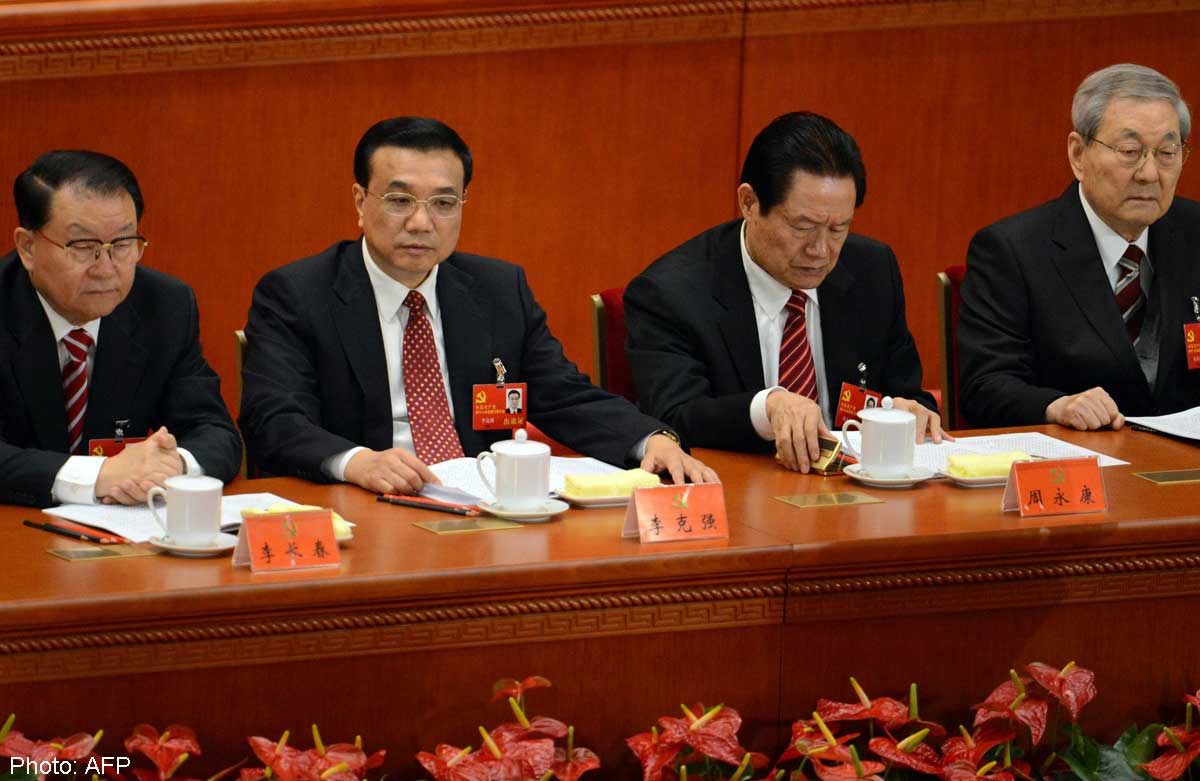 BEIJING - China's former security chief Zhou Yongkang has been arrested and expelled from the Communist Party, state media said Saturday, paving the way for the prosecution of the highest-ranking Chinese figure in more than three decades.
Zhou - who retired from China's all-powerful Politburo Standing Committee (PSC) in 2012 - has been placed under a judicial probe over corruption offences, the official Xinhua news agency reported.
Zhou "leaked the party's and the country's secrets," Xinhua said, adding that the once-influential official was found to have "accepted a large amount of money and properties personally and through his family".
The announcement makes Zhou the most senior member of the Communist Party to be investigated since the infamous Gang of Four - a faction that included the widow of founding leader Mao Zedong - were put on trial in 1980.
The dismissal of an official from the party clears the way for a criminal prosecution which usually leads to a guilty verdict at a trial, followed by a prison sentence.
Zhou became ensnared in President Xi Jinping's much-publicised anti-corruption drive in July when he was put under investigation for "serious disciplinary violation".
Xinhua said the decision to expel Zhou was made at a Politburo meeting on Friday, indicating that the move was approved by the party's innermost circle of leaders, including Xi.
A key figure in China's powerful petroleum industry, Zhou was also a close ally of Bo Xilai, the former high-flying politician who last year was sentenced to life in prison after a sensational corruption trial that exposed intrigue and lavish lifestyles within the party elite.
'POWER FOR SEX AND MONEY'
Communist Party authorities have been waging an anti-graft campaign since Xi ascended to the leadership two years ago.
The campaign has netted high-level "tigers" as well as low-level "flies" - although critics say the Communist Party has failed to introduce systemic reforms to prevent graft, such as public disclosure of assets.
According to the Xinhua report, which cited a Politburo statement, Zhou "abused his power to help relatives, mistresses and friends make huge profits from operating businesses, resulting in serious losses of state-owned assets".
In unusually frank language, the news agency also said that Zhou was found to have "committed adultery with a number of women and traded his power for sex and money.
"What Zhou did completely deviated from the Party's nature and mission, and seriously violated Party discipline," Xinhua wrote, citing the Politburo statement.
"His behaviours badly undermined the reputation of the Party, significantly damaged the cause of the Party and the people, and have yielded serious consequences," it added.
In a commentary published on its website the People's Daily newspaper wrote: "Corruption is a malignant tumour (or cancer) that has invaded the party's healthy body."
It said combating graft was "a necessary requirement in order to uphold the party's leadership and consolidate its ruling status".
Adultery is not illegal in China, but the Communist Party has for years been embarrassed by reports of its cadres keeping multiple mistresses.
Authorities said in June that officials guilty of affairs "could be removed from their posts, or stripped of party membership".
A BO XILAI-STYLE TRIAL?
Zhou's expulsion from the party had been rumoured for months, and a number of officials with close ties to the former security czar have recently been ousted from the party.
They include Ji Wenlin, Yu Gang and Tan Hong, all former secretaries to Zhou, according to overseas Chinese reports.
Jean-Pierre Cabestan, an expert on Chinese politics and law at Hong Kong Baptist University, said ahead of Saturday's announcement that the gradual tightening of the noose around Zhou suggested that he would be "eventually" tried.
But he noted that authorities would probably be wary of opening up the proceedings.
"There's always a risk with a public trial," he said, adding that party leaders may move to ensure that a Zhou trial is "more controlled" than the dramatic Bo proceedings, which included descriptions of a love triangle and details of the vast wealth amassed by the party's upper echelon.
In addition to Zhou, Xi's anti-graft campaign has also led to the ousting of Xu Caihou, a former vice-chairman of China's Central Military Commission.
Xu, who was a Politburo member until 2012, in July became the first of the body's former members to fall in the current crackdown on graft, which follows the ascension of Xi to power as the head of the party.
Despite the crackdown, a recent report by Berlin-based Transparency International suggested that corruption has actually worsened in China, in part because "too many cases take place behind closed doors".