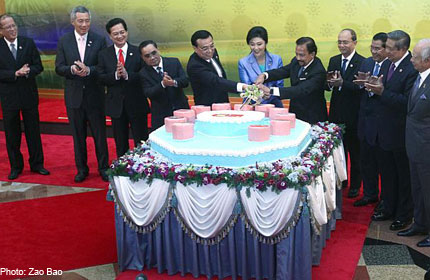 China and ASEAN have agreed to hold fresh talks to upgrade their free trade area, as Chinese Premier Li Keqiang urged regional leaders not to let long-running territorial disputes in the South China Sea sour their ever-closer economic ties.
The remarks by Mr Li, who is attending his first summit with South-east Asian leaders, came on a day when ASEAN's annual leadership powwow with the United States was reduced to a meeting with Secretary of State John Kerry instead of President Barack Obama, who pulled out to deal with a budget crisis at home.
Mr Li, who marked the 10th anniversary of the strategic ASEAN- China partnership by cutting a cake with the other leaders, also mooted greater security and financial and maritime cooperation between the two sides.
"A peaceful South China Sea is a blessing for all, while a turbulent one benefits no one," he said at a convention centre 10km away from the South China Sea coast.
"We need to work together to make it a sea of peace, friendship and cooperation."
Mr Li's speech on Wednesday came two days after Chinese President Xi Jinping vowed the Asian giant would be a force for peace and stability in the region in a speech at the Asia-Pacific Economic Cooperation (Apec) CEO Summit in Bali.
Both Mr Xi and Mr Li are on a charm offensive across five ASEAN countries these two weeks, with Mr Li moving on to state visits in Brunei, Thailand and Vietnam.
These visits also come at the close of a year where the chairmanship of Brunei - ASEAN's smallest member but one of its most diplomatically astute - has restored some semblance of unity to the grouping after a mid-2012 foreign ministers' meeting in Cambodia failed to agree on a joint communique for the first time ever, under what many saw as pressure from China.
On Wednesday, ASEAN's 10 leaders held a full day of meetings, first among themselves, then with dialogue partners Japan, South Korea, China and the US.
Brunei's Sultan Hassanal Bolkiah stressed in opening the ASEAN Summit: "ASEAN must demonstrate its unity and centrality to ensure peace, stability and greater prosperity in the region, in managing the interests of major powers or negotiating trade agreements.
"This is especially important in ASEAN's efforts to develop a code of conduct for the South China Sea."
On Wednesday, members vowed to intensify talks with China on such a code to manage flare-ups.
The Philippines, which has been among the loudest critics of China's growing assertiveness in these waters, also appeared to strike a measured note. President Benigno Aquino's spokesman Ramon Carandang told reporters in Brunei: "In recent months, discussions on the code of conduct between China and ASEAN have met with some degree of progress. Right now you're seeing everybody engaging, even China."
Japanese Prime Minister Shinzo Abe told his ASEAN counterparts that the Japan-China relationship was one of the most important, and Japan was ready to improve ties through dialogue, even as he assured them Japan would react firmly but calmly in their dispute over the Senkaku/ Diaoyu islands, officials told Japanese media.
US Secretary of State John Kerry reassured them of the US' commitment to ASEAN despite President Obama's absence.
Today, ASEAN leaders will have a joint meeting with Mr Li, Mr Abe and South Korean President Park Geun Hye, as well as the East Asia Summit, which also includes the US, Russia, Australia, New Zealand and India.
zakirh@sph.com.sg

Get a copy of The Straits Times or go to straitstimes.com for more stories.