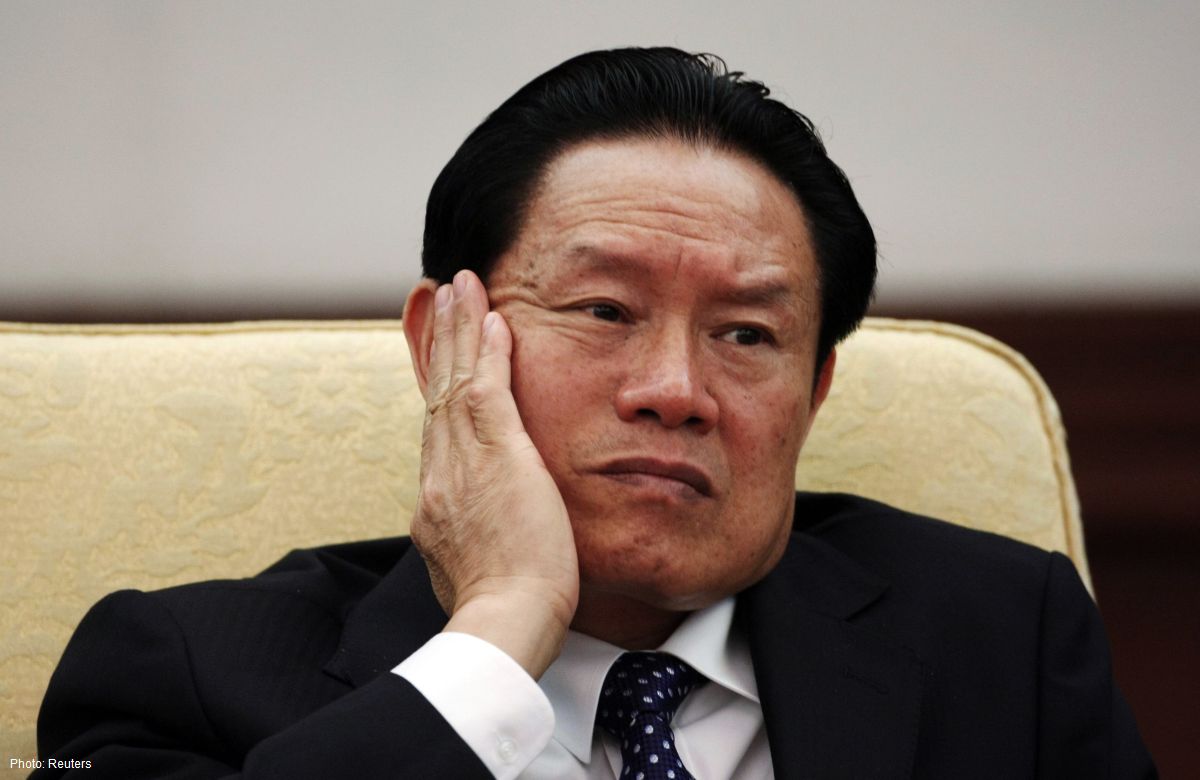 BEIJING - Three senior allies of China's former security chief and a top retired general were expelled from the ruling Communist Party over corruption Monday as the noose tightened around one of China's most powerful men.
The expulsions - and the transfer of their cases to judicial authorities for criminal prosecution - are the latest signal that Zhou Yongkang, once a member of the Politburo Standing Committee (PSC), China's most powerful body, is being targeted.
His fall would send shockwaves through China's political establishment. PSC members have generally been regarded as untouchable even after retirement.
Jiang Jiemin, head of China's state-owned assets watchdog, and former vice minister of public security Li Dongsheng were stripped of their party membership, according to the Central Commission for Discipline and Inspection (CCDI), the party's internal watchdog.
Both men had previously been sacked from their jobs for graft and are closely linked to Zhou, a former top China National Petroleum Corp (CNPC) official.
A third man - Wang Yongchun, a former CNPC vice president who was Zhou's assistant when he worked at the major Chinese oilfield of Daqing - has also been expelled from the party, the CCDI said.
Separately, Xu Caihou, the former vice-chairman of China's Central Military Commission, was expelled from the party over graft and his case handed over to prosecutors, according to China's official Xinhua news agency.
The 71-year-old Xu was until 2012 a member of the Communist Party's elite 25-strong Politburo, which oversees Chinese politics and legal affairs.
He is its first former member to fall in the current crackdown, which follows the ascension of Xi Jinping to power at the head of the party.
The decision to expel him was made at a Politburo meeting presided over by Xi, Xinhua reported.
Investigators found Xu took advantage of his post to secure promotions for individuals and accepted bribes personally and via family members, Xinhua quoted a statement issued after the meeting as saying.
"The whole party and armed forces should be fully aware of the time-consuming, complicated and tough mission to fight corruption," the statement added.
"Anyone, no matter what authority and office he holds, will receive serious punishment if violating Party disciplines and laws. We will never compromise nor show mercy."
- 'A foolproof case' -
A number of officials and others with close ties to Zhou have come under investigation in recent months, and the former security chief himself is now at the centre of rumours about a corruption probe.
Zhou, who amassed huge power before his retirement from the party's all-powerful Politburo Standing Committee in late 2012, has not been seen in public for months.
If the investigation into Zhou is confirmed, it would mark the first time in decades that such a high-ranking figure has been targeted in a formal inquiry.
The anti-graft campaign under Xi has been heavily publicised, but critics say no systemic reforms have been introduced to increase transparency to help battle endemic corruption.
Analysts say the quartet of expulsions is a strong signal that authorities are set to make an announcement regarding Zhou.
"They are definitely tightening the noose around Zhou Yongkang," said Willy Lam, a China politics expert at the Chinese University of Hong Kong, adding that authorities were probably "building up a foolproof case" against the once-powerful figure.
"Otherwise Xi Jinping will become a laughing stock, as he arrested so many people close to Zhou," Lam said.
If the president failed to act, he would be seen as lacking "the political courage or having the political backing from the party leaders to bring an open prosecution," the expert added.
Xu's fall was also "very important", Lam said, as the highest ranked PLA officer to be prosecuted since the end of the Cultural Revolution.
While rumours have swirled for months that Zhou himself is being investigated for graft, his name has not been mentioned in any state-run media reports, and officials have avoided answering questions on his fate.