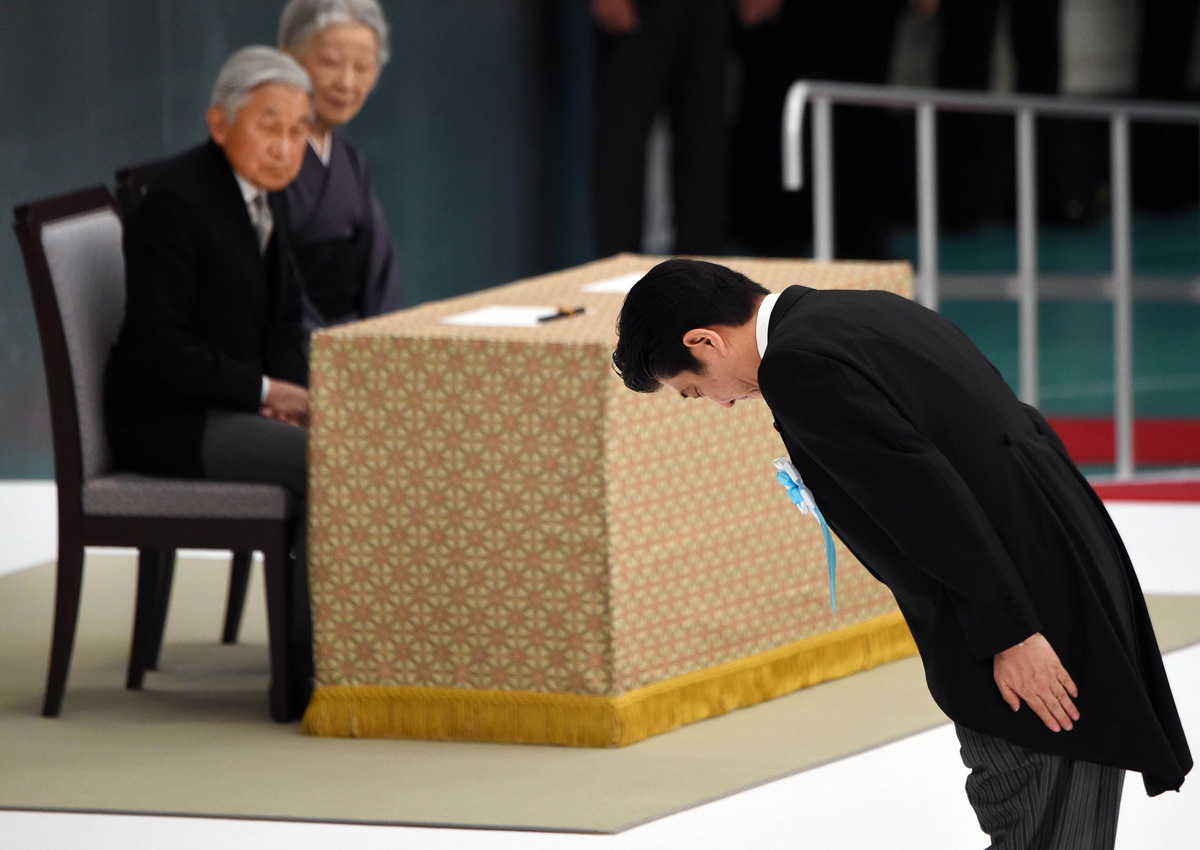 The Chinese government has criticised Japan's Prime Minister Shinzo Abe for not making a sincere apology to victims of its war-time actions in his statement to mark the end of World War II, and being evasive on the historical issue instead.
Executive vice-foreign minister Zhang Yesui has expressed China's "solemn position" to Japanese ambassador to China Masato Kitera, Foreign Ministry spokesman Hua Chunying said in a statement issued yesterday morning.
"Japan should have made an explicit statement on the nature of the war of militarism and aggression and its responsibility on the wars, made a sincere apology to the people of victim countries, and made a clean break with the past of militarist aggression, rather than being evasive on this major issue of principle... Only by facing history squarely can one open up the future," she said.
Contrary to initial speculation, Mr Abe's speech on Friday - the eve of the end of WWII - included key words such as "aggression", "colonial rule", "remorse" and "apology" that were found in the 1995 landmark statement by then prime minister Tomiichi Murayama. The "Murayama Statement" has been held up by China as a template for Japanese leaders to follow.
But the Japanese leader drew flak from Chinese media and netizens for not issuing his own apology and using unclear language on issues such as whether Japan's invasion could be defined as aggression.
Adding to the criticism, a Global Times editorial yesterday noted that Mr Abe "has less than willingly inherited a few key words" from the Murayama Statement - a compromise he made to appease domestic and foreign pressure - but "has failed to inherit the relatively earnest attitude".
"The play of words provides various interpretations. But after the contradictory interpretations offset each other, what is left may be basically nothing," it added.
The China Daily summed up Mr Abe's statement as a "very cleverly worded speech" and an "impressive play of the words".
"By incorporating the key expressions of that milestone statement, Abe may effectively silence some of his critics, whose latest demand was that his statement include the core Murayama expressions," the English-language newspaper said in an editorial.
The People's Daily, the Chinese Communist Party's official mouthpiece, slammed as irresponsible Mr Abe's remarks that Japan's post-war and future generations should not be made to apologise.
"Descendants in any country do not inherit only the successes of predecessors, but also the historical responsibility of their wrongdoings," it wrote in a commentary. "History cannot be forgotten nor severed."
Analysts say the lack of a clear apology from Mr Abe will not cause Sino-Japanese ties to worsen for now as both sides want to maintain the current thaw so as to boost their flagging economies, among other reasons. But the China Daily warned that it would be "naive to think the tensions paralysing East Asia will be gone". Real reconciliation will not be possible until Mr Abe "acts sincerely", it said.
"Therefore, even after weathering an otherwise imminent crisis, East Asia will continue to struggle in the long shadow of history."
kianbeng@sph.com.sg

This article was first published on August 16, 2015.
Get a copy of The Straits Times or go to straitstimes.com for more stories.