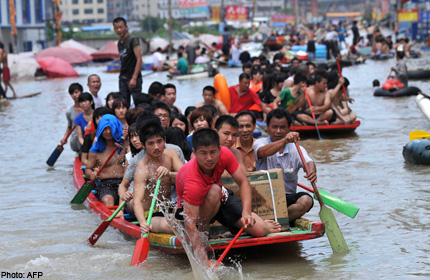 BEIJING - The death toll from devastating floods at opposite ends of China following torrential rains and the aftermath of a typhoon has risen to more than 130, the government and media said Tuesday.
Flooding in the northeast, which has been described as the worst there in decades, has killed 85 people and left 102 missing in recent days, the official Xinhua news agency reported.
Another 49 people, meanwhile, have perished in Hunan, central China, and in the southern provinces of Guangdong and Guangxi, the ministry of civil affairs announced.
The flooding has destroyed homes and sent rivers of mud flowing into city streets.
Desperate residents scrambled to escape the rising waters, using makeshift rafts and any implements they could find - including inflatable paddling pools - to flee. Many had to climb trees to avoid being swept away, pictures showed.
President Xi Jinping "has demanded all-out efforts in putting people's lives first", Xinhua reported Monday.
In Guangdong, the worst-hit province in the south which bore the brunt of Typhoon Utor last week, 28 people have been confirmed dead and 10 missing, ministry figures showed.
Transport links in the densely populated province were severely hit, affecting tens of thousands of travellers.
Some services from Guangzhou railway station, Guangdong's most important transport hub, had been suspended due to rain and landslides, though services had begun returning to normal Monday.
State media said 80,000 passengers had been left stranded over the weekend.
Nearly 3,000 military personnel were mobilised to help with the relief efforts, Xinhua reported earlier.