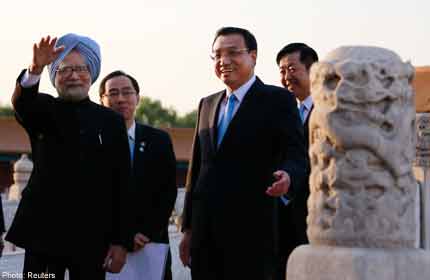 INDIA and China should move quickly to resolve their border dispute, visiting Indian Prime Minister Manmohan Singh told future Chinese leaders, a day after both sides inked a pact to maintain peace on their troubled boundaries.
In a speech that reportedly won warm applause from cadres at the Central Party School of the Communist Party, he also echoed Chinese leaders' calls for the two countries to join hands to protect joint interests on the world stage.
"We were not destined to be rivals, and we should show determination to become partners. Our future should be defined by cooperation and not confrontation," Dr Singh said.
Chinese President Xi Jinping had said when he met the Indian leader on Wednesday that, as the biggest developing countries, China and India should work together to protect shared interests.
On Thursday, Dr Singh added that they should take a stand especially against trade protectionism and environmental efforts that may place "unfair burdens" on them.

"We should ensure that the international response to climate change does not constrain our growth and that it continues to be based on the principle of common but differentiated responsibilities," he said in his speech.
He had told reporters on Wednesday that the two nations' discussions on regional and global affairs were "one of the promising areas in our relationship".
The Indian leader met Mr Xi, Chinese Premier Li Keqiang and former premier Wen Jiabao on his three-day visit, which ended on Thursday. He also witnessed the signing of nine agreements between the two countries, including one on the Nalanda University, a project to revive an ancient seat of learning.
The signing of the border pact has "unquestionably" great significance in boosting mutual trust and maintaining peace, China's Foreign Affairs Ministry spokesman said yesterday.
But the pact was not universally applauded by the Indian media.
Some call it "landmark", while others say the jury is still out on how effective it will be in curbing tensions sparked by incidents like the one in April that saw Chinese patrol guards stay for 21 days in disputed turf in eastern Kashmir.
On Thursday, Dr Singh said peace in the border areas should not be disturbed and both sides should stick to agreements. "At the same time, we should move quickly to resolve our boundary issue," he added.
China and India hold overlapping claims over territory in their border areas and had waged a brief war in 1962 over these.
The two sides failed to clinch a much-awaited visa liberalisation deal on Dr Singh's visit, neither did they have news of major Chinese investments in India to report. These would have helped ease concerns about India's widening trade deficit with China which hit US$29 billion (S$36 billion) last year.
But Dr Singh made a pitch yesterday: "India plans to invest US$1 trillion in infrastructure in the next five years and we would welcome China's expertise and investment in this sector."
hoaili@sph.com.sg
Additional reporting by Nirmala Ganapathy in New Delhi

Get a copy of The Straits Times or go to straitstimes.com for more stories.