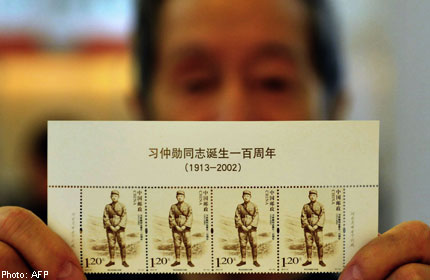 BEIJING - China marks the 100th anniversary Tuesday of the birth of President Xi Jinping's father, a Communist war hero, but analysts say the connection is a mixed blessing for the head of state.
Xi Zhongxun, who died in 2002, was a military leader in northwest China during the civil war which culminated in the founding of the People's Republic in 1949, and eventually rose to vice premier.
He was purged in 1962 and spent 16 years in detention and under surveillance, but later returned to favour and became party secretary of the southern province of Guangdong, where he spearheaded economic reforms that have become a defining part of his legacy.
To commemorate his centenary China has issued a set of stamps, published a series of works by and about him, and is showing a six-part documentary on state broadcaster China Central Television that reportedly took three years to make and features interviews with 300 people.
According to analysts the occasion affords his son the opportunity to associate himself with the Communist victory, as well as to Mao Zedong, about whom many Chinese still harbour positive feelings.
But Xi Jinping's lineage is also something of a liability, analysts say, as a reminder of his privileged status as a so-called "princeling" who has benefited from his family ties to the first generation of Communist leaders.
"The tricky thing now is with so much criticism of princelings and connections to that generation, you have to handle it delicately," said Jeffrey Wasserstrom, professor of history at the University of California Irvine and a specialist in Chinese history.
"Xi Jinping wants you to remember that his father was a revolutionary, but it's a little bit (dangerous) reminding people how privileged and special your place is," he added.
"This is probably a way to do it that seems respectful of another generation and not too charged."
A series of high-profile cases involving corruption and misdeeds among members of the "princeling" generation have stoked anger among many ordinary Chinese, who have taken to the Internet to make their criticism heard.
Officials in the northwestern province of Gansu last week celebrated the anniversary with an event attended by Xi Yuanping, Xi Jinping's younger brother, who also recently penned a memorial of his father in the China Youth Daily newspaper.
Zhang Lifan, an independent political analyst based in Beijing, described the attention given to the centenary as "unusually high-profile".
Xi Jinping, who formally took over as president in March, "wants to show his legitimacy as the successor to both the regime's revolutionary tradition and its reforms", he said.
"But Xi Zhongxun is a man of great political wisdom and independent political opinions," he added. "I don't know whether those could be inherited."
The celebration "actually indicates there must be some weaknesses" in the current leader's power, Zhang said, suggesting it may be aimed at gathering public support ahead of a key Communist Party meeting next month, with the elder Xi's reforms in Guangdong also possibly being part of the appeal.
The centenary comes two months before another high-profile commemoration - the 120th anniversary of Mao's birth in December.
Mao had a "major personality cult" built up around him, Wasserstrom said, but even at its height the leader's birthday was not officially celebrated and there was "a bit of a taboo" against doing so.
"If you don't have the tradition of celebrating the actual leader's birthday but of doing things that will attract positive attention to him while not being quite that narcissistic, then this could be a way," Wasserstrom said.