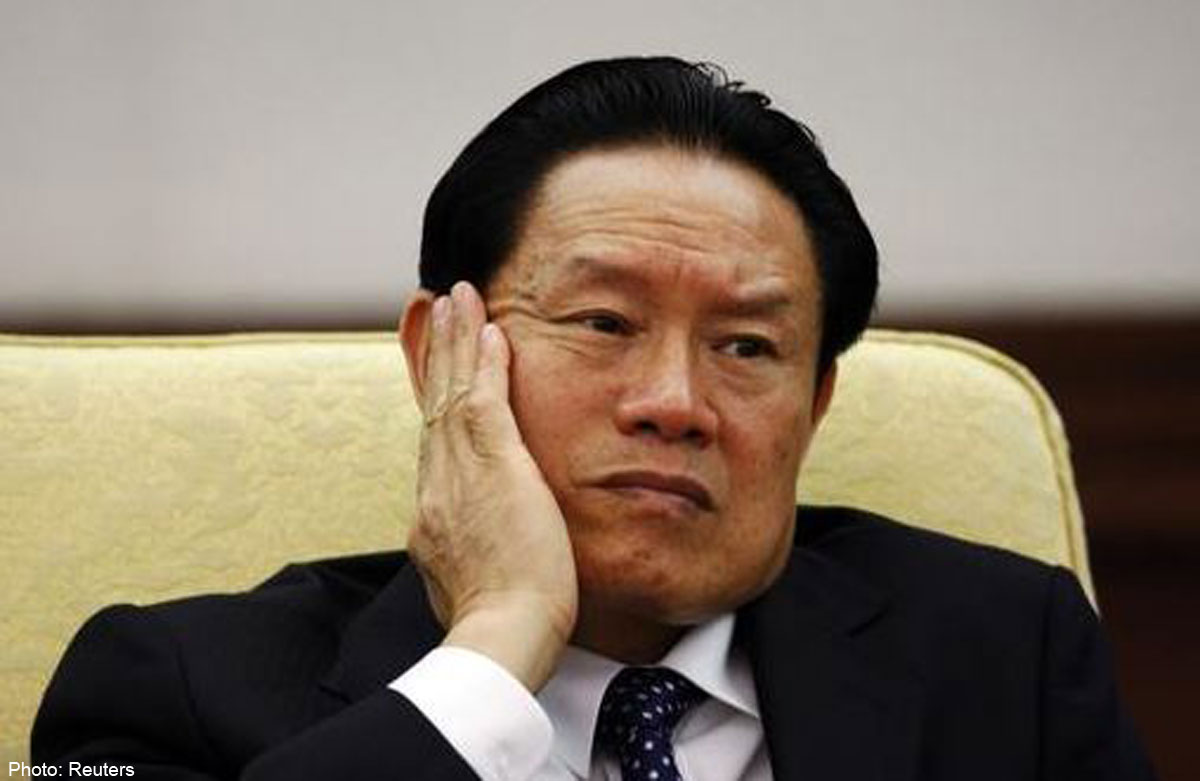 It is largely a power play, but the Chinese Communist Party's (CCP) formal investigations into retired security czar Zhou Yongkang and the dismantling of his network of associates might have positive knock-on effects on the economy and society, say analysts.
In a telling sign, China's energy stocks rose yesterday, a day after the CCP announced that Mr Zhou was being investigated for "serious disciplinary violations", a catchphrase for corruption.
It was an unprecedented move against a retired member of the party's apex Politburo Standing Committee. Economists believe that investor confidence will be boosted since the probe signalled an end to investigations into the state oil companies once headed by Mr Zhou, who had spent more than three decades in the petroleum sector.
Analysts also expect to see a possible cooling down of President Xi Jinping's anti-graft campaign and the government refocusing its energy on economic and social reforms pledged at a policy summit last November.
"With some high-profile arrests under its belt, we believe the focus of the new government can start to shift from the anti-graft campaign to real institutional reforms, which are badly needed for China's long-term economic health," wrote Bank of America's China economist Lu Ting in a report yesterday.
There is a belief too that a weakening of vested powers in key state-dominated sectors like energy would help market-oriented reforms over the long term.
Analyst Kerry Brown said Mr Zhou's private fiefdom of associates in the energy and security sectors had caused a "drag on efficient economic development".
"With a falling GDP growth rate, you cannot afford to have state enterprises being used by discrete networks to fund their operation and for them to purchase the loyalty of others," he added.
Since taking power in 2012, Mr Xi and disciplinary chief Wang Qishan have mounted a ferocious anti-corruption campaign that has targeted both "tigers and flies", referring to senior and junior officials respectively.
But in recent months, there have been public criticisms that the campaign was hurting the pace of economic reforms pledged last November. Jittery officials at state enterprises have reportedly paid more attention to the investigations than carrying out reforms.
Some analysts think Mr Xi may thus want to "soft land" the anti- graft campaign, having achieved his aim of sending a strong message on rooting out corruption. But it won't be easy, they say. "Xi may not be entirely in control of the situation. He may want to stop but Wang may not think likewise. Or others may bring evidence against top leaders and Xi may have to take action or be accused of practising double standards," Singapore-based analyst Bo Zhiyue told The Straits Times.
Moreover, there are strong public expectations for "live tigers" to be targeted, added Dr Bo, referring to those still in office.
University of California, San Diego analyst Barry Naughton thinks the anti-graft campaign has both positive and negative effects for economic reforms as "it keeps everybody off balance".
It will make it difficult for officials to resist the economic reforms, he said. But it will also be tough for other officials to push for reforms as "the risks are high", he added, in a veiled reference to how some would try to lie low and avoid offending others.
Observers say winding down the campaign could lead to a greater emphasis on speeding up social reforms like rule of law.
Wuhan University law professor Qin Qianhong noted that apart from announcing on Tuesday Mr Zhou was being investigated, the CCP also announced its fourth plenary session would take place in October and the theme would be strengthening the rule of law.
He believes the two announcements were timed to send a message that there is now an opportunity to advance the rule of law.
He also pointed out that the government yesterday announced changes to the hukou, or household registration system, that effectively abolishes the controversial rural hukou for migrants.
"I believe the top leadership may want to slow the pace of the anti-graft campaign and focus on reforms, though they will monitor if vested interest groups continue to put up opposition to reforms. If they do, we can expect the pace to pick up again," he added.
kianbeng@sph.com.sg

This article was first published on July 31, 2014.
Get a copy of The Straits Times or go to straitstimes.com for more stories.