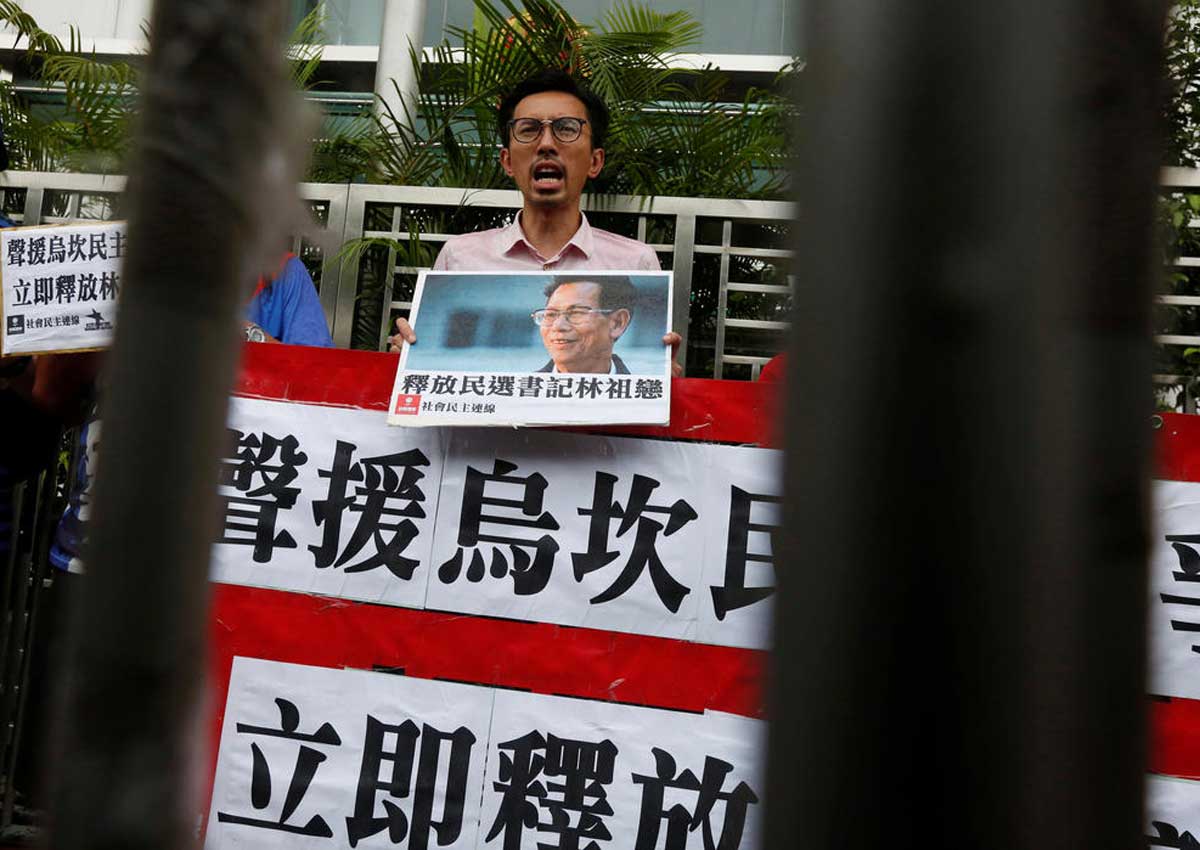 HONG KONG - Chinese riot police on Tuesday fired tear gas and rubber bullets at protesters in a village once dubbed a symbol of grassroots democracy, residents and Hong Kong media said, less than a week after the elected village chief was jailed for corruption.
Pre-dawn police raids turned to violence after least 13 people were arrested in the fishing village of Wukan in the southern province of Guangdong, residents said.
Human rights activists in Hong Kong, about a four-hour drive to the southwest, believe the crackdown could represent an unprecedented push to silence Wukan, whose villagers received international attention after an 2011 uprising led to authorities granting direct village-wide elections.
While low-level democratic experiments have been tried in villages across China, Wukan's took place in the glare of both domestic and international publicity - and marked a rare moment when Communist Party officials backed down in the face of protest.
Villagers, including old people, pelted police with bricks as they advanced with shields, batons and helmets, with clouds of tear gas wafting down the street, video footage seen by Reuters showed.
The streets were strewn with bricks and used rubber bullet casements and tear gas canisters.
Reuters could not immediately verify the authenticity of the video.
One Wukan resident reached by Reuters by mobile phone said riot police hit people with batons, setting off tear gas grenades and firing rubber bullets at villagers, including old people.
He said police had entered the village in their "thousands". Others said between 300 and 400 police were involved in the operation, including house-to-house searches. "The riot police started attacking and shooting at us," he said. "They are still fighting now. We want them to leave."
Calls for widespread democracy are anathema to party rulers, who have long feared such sentiment in Hong Kong leeching across the border into southern China. Weeks of "umbrella revolution"protests in the former British colony in late 2014 demanding fully free elections presented Beijing with one of its biggest political challenges in decades.
Tuesday's crackdown also follows victories earlier this month by several pro-independence candidates in Hong Kong legislative elections - the first major polls since the 2014 protests.
Amnesty International's Hong Kong-based China researcher, Patrick Poon, said this was the most serious crackdown Wukan had seen since 2011, when villagers ransacked the police station and government offices in protest against land grabs and corruption. "The government wants to use this crackdown to set an example and warn other neighbouring villages not to stage protests," Poon said.
"They are using so much force, it is quite possible the villagers may not be able to say anything for a while." The raids came days after a popular and democratically elected village chief, Lin Zuluan, one of the last of the 2011 protest leaders to remain in office, was jailed for three years on graft and other charges.
The sentence outraged many villagers and one said at the time fresh unrest was likely.
"POLICE LOCKDOWN"
Thousands also took to the streets in June to protest the arrest of Lin, who later appeared on television in what villagers believed was a forced confession. Democratic hopes had all but evaporated ahead of Tuesday's violence, with protest leaders either in detention, in exile, facing arrest or quitting their posts.
Another person whose relatives are in Wukan told Reuters the village was now in police lockdown and that internet connection had been severed.
Photos on social media purporting to be from Wukan showed villagers with wounds that appeared to be from rubber bullets.
One video obtained by the Hong Kong government-funded RTHK shows a loud bang and a flash going off near dozens of policemen huddled in formation behind shields.
The official microblog of Lufeng county police, who oversee Wukan, stated in a post on Tuesday the 13 people arrested had been organising illegal assemblies and used threats to force villagers to join since June 19, a day after Lin was detained.
The police microblog said later its operation was supported by the public and order was being restored to Wukan.
It also issued a stern warning to people using social media who they said were spreading false rumours on "the so-called Wukan issue", adding that cyber police were investigating.
Many microblog posts sharing photos of the faceoff in Wukan have since been deleted.
An official from the publicity department of the Shanwei City government, which oversees Wukan, said when asked about the violence: "I'm not very clear. Please ask another department."
The crackdown has been extensively covered in Hong Kong media and some Hong Kong pro-democracy groups are planning protests outside Beijing's official Liaison Office in the city.