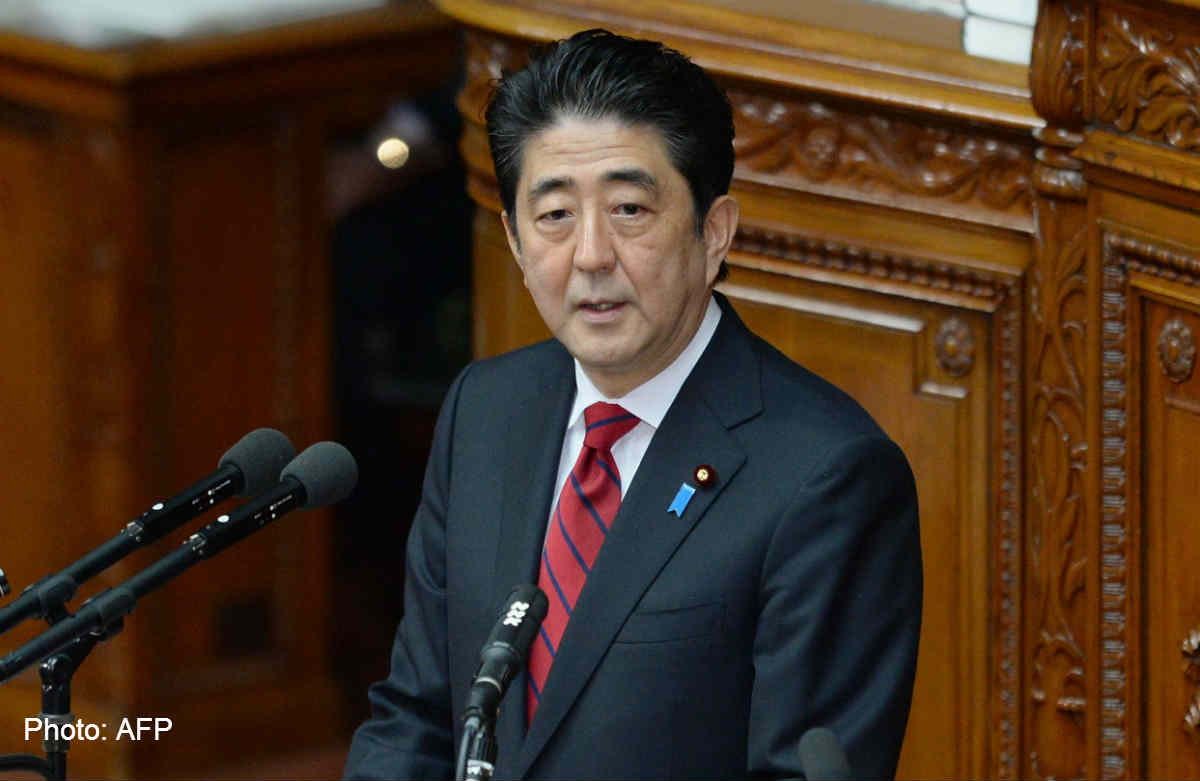 CHINA - The world must stand up to an increasingly assertive China or risk a regional conflict with a disastrous economic fallout, Japan's Prime Minister Shinzo Abe said at the World Economic Forum (WEF) in Davos.
His remarks triggered a stinging rebuke from Beijing a day later. He also received flak from Seoul for defending his Yasukuni shrine visit.
Speaking to reporters on Wed- nesday, Mr Abe had compared simmering tensions between Japan and China to the rivalry between Britain and Germany before World War I. He said that while the European rivals had strong trade ties, these did not prevent them from going to war in 1914.
He said in a speech later that day, in a thinly veiled reference to China: "We must restrain military expansion in Asia... which otherwise could go unchecked."
Warning that instability in Asia would affect the rest of the world, he said: "The dividend of growth in Asia must not be wasted on military expansion."
Beijing returned the barb at a regular Foreign Ministry press conference yesterday, calling for Japan to stop skirting the issue of its wartime past and to reflect on its past actions instead. "They are the Nazis of the East," spokesman Qin Gang said, even as he reiterated China's commitment to "a path of peaceful development".
Renmin University foreign policy expert Jin Canrong said Mr Abe was just rehashing old points on a new platform. In this case, it was one that had greater attention from the West.
"There might be some reaction from scholars, the media, and in turn, public opinion, but I don't think Beijing will react specifically to Mr Abe's comments. Each country has a right to say its piece," he added.
Ties between the Asian giants, long poisoned by what Beijing sees as Japan's failure to atone for its occupation of China during World War II, have deteriorated recently amid an ugly territorial spat, Tokyo's mistrust of Beijing's military buildup, and Mr Abe's recent visit to the controversial Yasukuni shrine.
Mr Abe on Wednesday defended his visit to the shrine, seen by China and South Korea as a symbol of its militaristic past.
China's state-run Xinhua news agency yesterday slammed Mr Abe's characterising of his visit as "praying for the souls of the departed", saying he had failed to mention that the shrine honours 14 Class-A war criminals.
"Instead of honestly reflecting on history and making real efforts to reduce tension in the region, Abe went on the stage of the WEF and advocated the idea of China being a threat in the Asia-Pacific.
"Abe's attempt to instigate a united stand against China will be in vain as he stands on the wrong side of history," said Xinhua.
South Korea, too, condemned Mr Abe's defence of his visit.
"Paying respects at the Yasukuni shrine equates to not repenting for Japan's imperialist wrongdoings," its Foreign Ministry spokesman said yesterday. "The continued Yasukuni visits by Japanese leaders are incomprehensible."
Meanwhile, Japanese Chief Cabinet Secretary Yoshihide Suga denied that Mr Abe's Britain-Germany analogy meant he thought war between Asia's two powers was possible.
Rather, Mr Abe was saying Japan and China should avoid repeating the past mistakes of Britain and Germany, said Mr Suga, according to a Reuters report.
He also noted at a regular news conference in Tokyo yesterday that Mr Abe said dialogue and the rule of law, not armed forces and threats, were needed for peace and prosperity in Asia.
"He clearly stated that endless military expansion in Asia must be curbed. I believe, in these words, he underscored the importance of peace and stability in Asia," Mr Suga added.
esthert @sph.com.sg

Get a copy of The Straits Times or go to straitstimes.com for more stories.