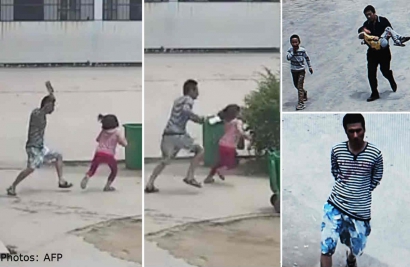 BEIJING - Police in China killed a suspect who was attempting to take over a primary school on Tuesday, state media said, in the latest incident targeting children.
The unnamed suspect was shot dead Tuesday morning after trying to seize control of the school in Qianjiang in central China's Hubei province, according to the provincial news website Jingchu network.
Police believe the suspect may have left an explosive device on the campus, said state broadcaster CCTV, adding that teachers and students had been moved to a safe location. No further details were available.
China has seen several attacks against children in recent years, including a spate of incidents in 2010 that left 17 people dead - 15 of them children - and wounded more than 80.
In March last year, a man killed two relatives and then injured 11 people, including six children, with a knife outside a school in China's commercial hub Shanghai.
The incident also comes on the heels of Sunday's bombing of a popular fast-food restaurant in the northeastern province of Heilongjiang.
Two police officers were injured in the blast, according to the official Xinhua news agency, which said the attack was carried out by a jobless man who attempted to blackmail the restaurant.