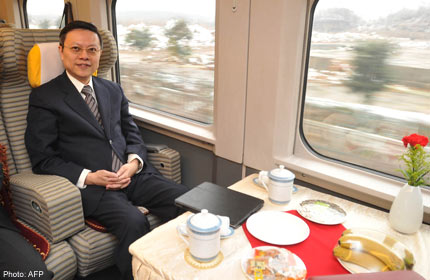 AFTER decades of "no contact" or semi-official contact, China and Taiwan have agreed to formalise regular government-to- government communication as the former foes opened a new chapter in their cross-strait relationship.
Officials from both sides exchanged mobile numbers on Tuesday, a far cry from the so-called "white-gloved" contact conducted by semi-official bodies, which allowed both governments to avoid recognising each other.
"Today, we move towards institutionalising cross-strait ties," said Mr Wang Yu-chi, chairman of Taiwan's Mainland Affairs Council. "This will ensure faster, more efficient communication."
His counterpart Zhang Zhijun, director of China's Taiwan Affairs Office, said: "We are family on both sides of the (Taiwan) Strait. Understanding more about each other is good for our relationship."
Tuesday's talks were the first official contact between the two sides since 1949.
Amid an unseasonably cold snap in Nanjing, the two men exchanged warm handshakes at the Purple Palace hotel. The city was the seat of the Kuomintang (KMT) government before it fled to Taiwan after losing the civil war to the communists in 1949.
"Chairman Wang, welcome," said Mr Zhang as he extended his hand to Mr Wang.
"Director Zhang," Mr Wang said in reply.
Both the venue and the honorifics used carry import in a relationship that has been balanced on carefully calibrated protocol.
In addressing each other as "chairman" or "director", they were "showing respect for the other's jurisdiction over their respective territories without touching on any sovereignty-related issue", said Professor Chen I-Hsin of Taiwan's Tamkang University, while the choice of Nanjing was a sign of respect for the KMT.
Professor Huang Jing, an expert in cross-strait relations at the Lee Kuan Yew School of Public Policy, said both sides gained. They sent their respective ministers in charge of mainland and Taiwan affairs - a tacit acknowledgement that the meeting took place within the "One China" framework.

Meanwhile, Taiwan got the "administrative legitimacy" it sought as an equal partner at the table, he added.
The meeting, while heavy on symbolism, produced no substantive outcomes such as on the setting up of representative offices. Taipei failed to secure Beijing's backing to take part in multilateral trade pacts. A possible meeting between the two sides' presidents was not even broached.
But contacts will continue. Mr Zhang accepted his counterpart's invitation to visit Taiwan, saying: "I hope to do so in the near future, at an appropriate time."
xueying@sph.com.sg
Additional reporting by Kor Kian Beng in Beijing

Get a copy of The Straits Times or go to straitstimes.com for more stories.