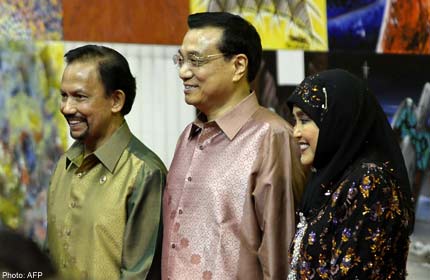 As part of its new charm offensive in the South-east Asian region, China has placed its hopes on two tried-and-tested foreign policy tools, though these have received mixed responses from South-east Asian countries.
One is the comprehensive strategic partnership, which is among the highest levels of cooperation arrangement China inks with foreign countries.
Another is the "treaty of good neighbourliness, friendship and cooperation" - a Chinese initiative that has been signed with six countries, mostly in Central Asia.
President Xi Jinping and Premier Li Keqiang deployed both tools in their visits to the region in the last two weeks, their first since taking power last November.
During his stops in Indonesia and Malaysia, Mr Xi said China would build comprehensive strategic partnerships with both, adding them to five ASEAN countries it has inked such pacts with: Vietnam in 2008, Laos in 2009, Cambodia in 2010, Myanmar in 2011, and Thailand last year.
Comprehensive strategic partnerships - usually expanded from strategic partnerships and which are broad-ranging, covering political, economic and cultural exchanges - are not new to China. Out of the 50-plus partnerships inked from as early as the 1990s, at least 10 are such pacts, including with France, Britain, Brazil, Mexico and South Africa.
Separately, Mr Li, at the ASEAN-China summit in Brunei, proposed the treaty of good neighbourliness "to consolidate the political foundation for our strategic mutual trust".
A Chinese brainchild, this treaty was first signed with Russia in 2001, followed by Kyrgyzstan and Kazakhstan in 2002, Pakistan in 2005, Afghanistan in 2006, and Tajikistan in 2007. China is also party to a similar pact in 2007 signed by members of the Shanghai Cooperation Organisation, which also includes Central Asian states and Russia.
Analysts say China's familiarity and relative success with both tools explain why it is using them in South-east Asia, where its influence and ties have been roiled by maritime disputes in the South China Sea and strategic rivalry with the United States and Japan.
The treaty "has helped improve (China's) strategic relations with Russia and maintained its influence in Central Asia", said Singapore-based analyst Li Ming- jiang, adding that Beijing aims to replicate this in the region.
Specifically, the treaty, being important to China as it has helped consolidate its influence in Central Asia and promote its cooperation with respective states, is being proposed in South-east Asia to show the increased focus it attaches to the region, said East China Normal University observer Yang Cheng.
Another aim is injecting the "element of exclusivity between China and ASEAN", said regional security expert Carl Thayer. This is in line with China's push for East Asia exclusivist arrangements, like the ASEAN Plus Three comprising also China, Japan and South Korea. "It is also an attempt to demonstrate that China is part of the region...unlike the US, whom China sees as an outside power."
China has given few details about the proposed treaty, which received a cautious response from ASEAN members.
Experts say it could duplicate the Treaty of Amity and Cooperation, which was signed in 1976 by ASEAN's five founding members and renounces the threat or use of force in disputes. China and other dialogue partners of the bloc have joined it over the years.
The comprehensive strategic partnerships with ASEAN members have been more warmly received, as shown by the responses from Indonesia and Malaysia.
Institute of Contemporary China Studies analyst Wang Qiaorong, who studies China's bilateral partnerships, said these partnerships reflect a shared commitment towards deeper cooperation, not just bilaterally but also on regional and global issues.
And it is not just an empty pledge with no action, she added. "Both parties will enter into consultations at various layers to effect real progress."
With the pact covering broad aspects, it will strengthen the foundation of Beijing's ties with ASEAN countries, said Peking University analyst Wang Yong.
But China will face challenges in using both tools, say analysts.
For instance, the impact of comprehensive strategic partnerships has been patchy for China, as shown by Yangon's pivot away from Beijing since its democratic reforms from 2011.
Dr Li said the greater strategic rivalry in South-east Asia between China, the US and Japan - compared to Central Asia where Beijing is vying for influence with only Moscow - is a key factor.
"South-east Asia may be more complicated in implementing the proposed treaty (of good neighbourliness)," he added.
kianbeng@sph.com.sg

Get a copy of The Straits Times or go to straitstimes.com for more stories.